As students, there are certain physical and budgetary constraints that limit our shopping habits. However, whether you are looking to update your wardrobe for summer or make some extra cash by clearing out your closet, there are a few affordable and convenient secondhand stores near campus where you can buy, sell, trade and consign gently used clothes, shoes and accessories. Two great options are Buffalo Exchange and Second Time Around, both located on the 1700 block of Chestnut Street in Center City.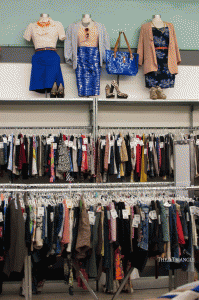 Buffalo Exchange is a vintage and used clothing store that sells a wide selection of secondhand items at reasonable prices. The company has been around since 1974, but opened its first Philadelphia store on Walnut Street 12 years ago. According to Associate Manager Siobhan O'Neill, the store relocated to its current location 11 years ago, but longtime customers still remember the store's first location. The store's business model is "to be the most rewarding place for people to go for resale fashion and represent all customers." The store carries gently worn and vintage men's, women's and juniors' apparel from size extra small to plus sizes. The majority of the store's inventory is made up of items purchased from customers, but they also source trendy new items from the Buffalo Exchange headquarters in Tucson, Ariz.
Customers can bring in items from their closets and sell them for cash or trade them in for store credit on the spot, no appointment necessary. After the buyer prices an item, the seller has the option to receive 30 percent in cash or 50 percent in store credit on the spot, although for more expensive designer pieces, the store will occasionally sell on consignment.
When asked what the store's buyers look for, O'Neill said:, "It really does just depend on the style and condition, first and foremost, but the labels that tend to sell the best for us are well-known mall labels like Gap, J. Crew, Express, things that are just recognizable and popular. We also take designer pieces, but we're also all very educated on trend-specific things, so even it it's a piece that has no label, if it's got a certain trend we know is going on like studding or retro vintage or something like that, we'll take it as well."
Looking to purge your closet of cold-weather items to make room for your summer wardrobe? Buffalo Exchange carries clothing for all seasons.
"For the most part we want the best of all seasons all the time. Even if someone brought in an awesome North Face right now we would take it; we wouldn't just pass on it because it's not a spring-summer item," O'Neill said.
It is more likely, however, for the store to purchase certain items that are in season because customers typically shop seasonally. "That's where our customers are in here shopping for, and that's what we're making our money at that time on."
The company also prides itself on being charitable and eco-friendly. It started a "tokens for bags" program to promote recycling. Customers who did not use a store-supplied plastic bag for their purchased items received a five-cent token to donate to a specified charity that would rotate each quarter. Now the store no longer provides plastic bags but has reusable totes for sale. The store encourages everyone to bring their own bag by still distributing the tokens for charity to customers who bring their own bag.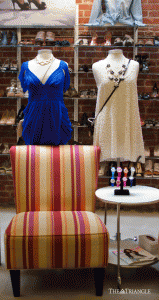 Second Time Around is another great secondhand shopping location that specializes in consignment on high-end designer items. The company is based out of Boston and opened its first store location in the 1970s, but it now boasts numerous stores nationwide. The company's Philadelphia location opened in 2009 and features everything from upscale labels such as Chanel, Prada and Gucci to tried-and-true brands like J. Crew and Banana Republic. All items sold to the store are on consignment, and selling is done by appointment. After the buyer prices the selected items, sellers are asked to sign a contract and are able to track the sale of their items online. Items are in the store for 90 days, and then the consigner receives 40 percent of what it sells for. The store pays out for items sold on a monthly basis by check.
When asked what buyers look for in consignment, Store Manager Lisa Johnson said, "We do everything seasonally, so right now we're taking summer merchandise, typically no older than two years, and we look for designer labels or better name brands. … We look at everything on whether or not we think it would sell. It doesn't have to be the trendiest piece. It could be more basic, but if we think there's a market for it, we'll take it in. But quality really trumps everything. We're not going to take anything that's stained or pilled or has holes in it."
The store also carries vintage items that reflect current trends. Trends for spring and summer include peplum, nautical and retro styles, such as blazers with shoulder pads, Johnson noted.
The store is arranged with the newest items, specialty racks and high-end designer pieces in the front; higher-priced items such as designer bags behind the counter; and discounted items in the back room with everything priced under $20, so there's something for all price ranges. The first thing I noticed when I walked into the store was a gorgeous mustard-colored Proenza Schouler PS1 large leather bag. This bag normally retails new for $1,995, but Second Time Around had this lightly used bag priced at $999. While that still might not be in your shopping budget, the store has great deals on various secondhand designer and brand-name pieces with something for all price ranges.
The Second Time Around Philadelphia store also regularly updates its Instagram account with the best of what's new in the store. Whether it's a vintage leather Ferragamo backpack or like-new Christian Louboutin pumps, see it first straight from your phone.