Let's face it: Americans aren't as informed as they used to be. In an era where Kanye and Kim pervade headlines and CNN misreports vital news such as the Supreme Court's ruling on Obamacare, it's hard to trust the media when establishing one's worldview.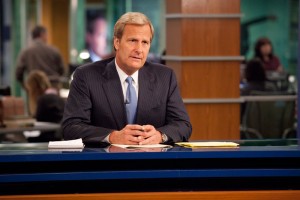 "The Newsroom" is a fresh television drama on HBO starring Jeff Daniels, Emily Mortimer, John Gallagher, Jr. and Alison Pill. The drama was created and written by Aaron Sorkin.
Aaron Sorkin's new HBO drama, "The Newsroom," aims to remind us of a golden age in news. A time when the truth was more vital to a reporter than getting his or her story out first. A time before two insanely polarizing news stations divided viewers by political allegiance.
Sorkin is nostalgic for the great journalists of yesteryear, having cited Walter Cronkite and Edward R. Murrow as examples. They were trusted names in news that reported on some of the 20th century's biggest headlines with honesty and integrity.
For "The Newsroom," Sorkin penned Will McAvoy in the same vein. Brilliantly played by Jeff Daniels, McAvoy is sharp, informed and dissatisfied. He's the anchor and managing editor of Atlantis Cable News, a channel obsessed with ratings, not reporting. It's not until McAvoy goes off on a tirade about the sad state of America that things start to change.
When he returns to the newsroom, most of his staff has quit, and he learns that his new executive producer is his ex-girlfriend. It's not a pretty situation, and it becomes even more desperate when the bare-bones team must rush to cover breaking news — a drilling rig has just exploded in the Gulf of Mexico.
The team predicts how other outlets will cover the news and decides to take a richer angle to the situation. Every second of the pilot is captivating as we watch the team rush to deliver the most detailed and accurate news possible.
The show is chock full of great acting, lightning-fast dialogue and a rich plot. You are immediately invested in these characters whose personalities Sorkin infuses with his trademark political commentary. This is a show to obsess over — the next "West Wing."
You may remember that in the late '90s, Sorkin created one of the most notable fictional U.S. presidents to date, Josiah Bartlet. He was sharp, bold and sympathetic. He made mistakes, but he was cherished all the same by his fictional peers and by real-life Americans. He was "The West Wing."
"The Newsroom" has the equally endearing Will McAvoy. You may not love him as much as Bartlet, but you will care for him, appreciate what he has to say, and be fascinated with his actions. Sorkin has created the next great journalist. If only he were real.