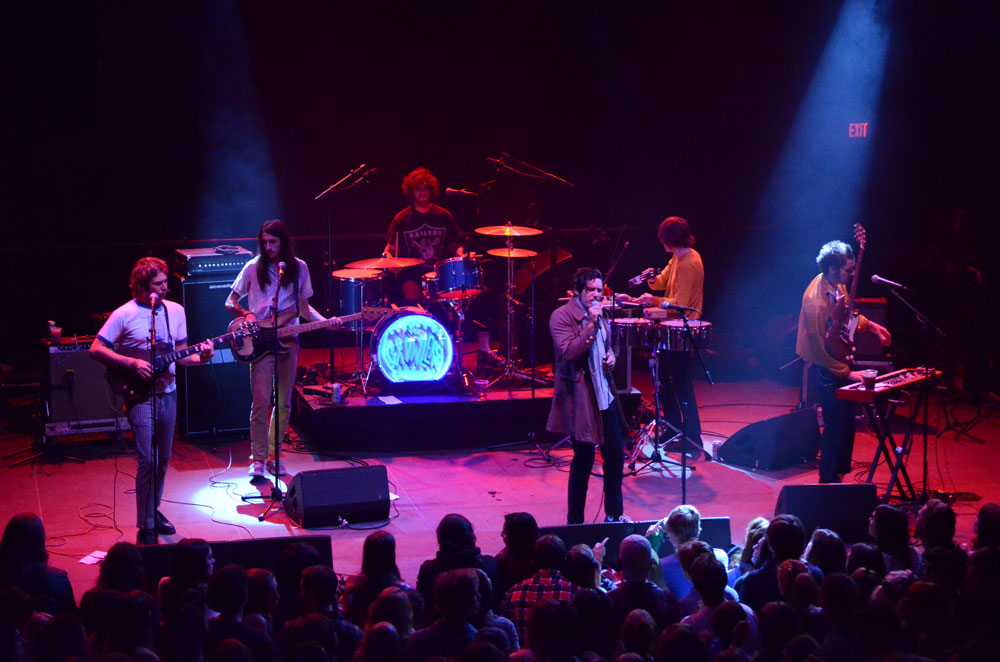 It's hard to say what's so good about California garage-surf rockers known as The Growlers. Listen to cuts off any of their albums and you'll notice the airy beats, jangly guitars and the gravelly vocals. It's easy to enjoy, but after a while you may listen to half an album without noticing a track change. However, the band and its songs take on a whole new life when heard live. Union Transfer was packed with fans Oct. 5 and the six-piece group put on a great show full of dancey tunes and good vibes.
After a funky set by DJ Johnny Basil, The Growlers took the stage to a loud round of applause. The group is touring in support of their 2014 album, "Chinese Fountain." The band is led by singer Brooks Nielsen. His smoky vocals hold your attention with captivating lyrics in almost every song. The other members of the band create music that meanders along in the background as Nielsen sings lines such as "When I can give you everything you ever wanted instead of take," on "Someday" and "Listen for fate's whisper, it'll try and warn you," on "Love Test." For a change, the lyrics provide the meat of the song instead of the music. I think that that is The Growlers' key to success.
Nielsen repeatedly told the crowd that his voice was not in good form but you'd be hard pressed to tell. The fans in attendance certainly did not seem to notice. A knot of fans in the middle were dancing like their lives depended on it throughout the entire show. Almost every song had a crowd surfer or four make their way to the stage for a quick dance as the band looked on grinning. Everyone enjoyed themselves.
The highlight of the set was the one-two punch of "Chinese Fountain" into "Good Advice." The title track from The Growlers' latest album has the most zip as it moves quickly along with an 80s dance groove. Following it right up was the anthemic "Good Advice." The crowd joined Nielsen to sing the chorus, "There's nothing as depressing as good advice, no one wants to hear how to live their life." It was awesome.
After coming back for a quick encore which included the great track "Big Toe," The Growlers gave the crowd a hearty thank you and left the stage for good. People streamed towards the doors with smiles on their faces after a night spent dancing to The Growlers.