Last year the wonderful readers of The Triangle were introduced to TiRon and Ayomari, two rappers who created one of 2011's best albums, "A Sucker For Pumps." In 2012 they were out to prove themselves once again. Instead of doing it alone, they built a team known as The Cafeteria Line and once again delivered an amazing album with "HNGRY," the group's first compilation. The group consists of TiRon, Ayomari, Breezy Lovejoy, SiR and T!FF and has come together over time, meeting through mutual friends and other local musicians in Los Angeles.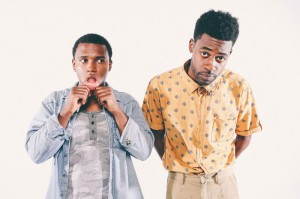 But now, after growing together as a unit, they delivered one of many impressive compilation albums this year. TiRon spoke on putting together the group and the goals of their conversation last month. He said: "We've been trying to build a team of artists with a sound that we're going for. Really trying to find people who complemented our sound and sonic. And since we had a platform, we wanted our fans to know these artists. We can all be independent, so come over here and rock with us and let us show our fans your music. Let's get this to the culture."
With HNGRY, The Cafeteria Line did something incredible in addition to the music. Instead of keeping the profits for themselves, which up-and-coming acts always do, the group decided to donate all proceeds from the album to The Midnight Mission, a nonprofit organization that is dedicated to helping the homeless.
"We wanted to extend a hand as The Cafeteria Line, so it was only right that we did some kind of work to help bridge the gap between the community and the homeless. It made perfect sense with this project," TiRon said.
Ayomari added, "This is only the first time, and it's something that we've wanted to get into. We were really trying to help make the whole project mean more."
For these reasons, the album is only available on Bandcamp, where fans can donate $7 or more to the Midnight Mission to receive their download of "HNGRY."
The album itself showcases a different side of TiRon and Ayomari's musical abilities. While "A Sucker For Pumps" was an incredible front-to-back project filled with moving, truthful songs about love and relationships, "HNGRY" shows that there's more to both artists than their first collaborative project.
"HNGRY was there to create a bridge and move on and show people what The Cafeteria Line is all about," Ayomari said.
After the success with "HNGRY," TiRon and Ayomari are hitting the road for a tour including a few shows on the East Coast in November. They'll start off in New York City Nov. 2 before coming down to the City of Brotherly Love for a performance Nov. 3 at The Arts Garage at 1533 Ridge Ave. TiRon discussed what this tour is about and what fans can expect from their live show.
"We've never really taken it on the road. We haven't really shown 'A Sucker For Pumps' to people. And now that me and Ayomari have the catalog, it's really going to touch a lot of the fans and become more of a tangible product because it's this thing that lives online and through social media, but we're going to go out and meet our fans. It's not the quantity but the quality of people you touch, and the quality of the fans that are in the audience that truly love your music, that are accepting. I just want to go out there and meet them and shake hands with, take shots with them and really party and rock with them and give our fans the show that we know they deserve for supporting us for so long."
Tickets are available now on Showclix.com.
With two excellent albums under their belt, TiRon had one thing to say at the end of our interview: "The Cafeteria Line is the illest crew out. Period."
So far the music has backed up that statement.