The Armory on 33rd Street was the place to be Feb. 18 as top disc jockey and Swedish House Mafia's music prodigy, DJ Alesso, made his debut in Philadelphia. Drexel University's Pi Kappa Phi fraternity was responsible for organizing this large-scale event. The doors opened at 8 p.m., and the show continued until 1 a.m. The opening acts included LA Riots, Kap Slap, Dubstef and Zenbi. The audience consisted mostly of students from Drexel, the University of Pennsylvania, Rutgers University, Temple University, the University of West Virginia and many more. The show is considered to be one of the top electronic dance music events Philadelphia will see in 2012.
DJ Alesso (Alessandro Lindblad) specializes in progressive house. He achieved worldwide attention and popularity in 2011 with wide support of his original productions and remixes from the likes of Avicii, Swedish House Mafia, Tiesto, Sander van Doorm, Kaskade and other well-established DJs. Alesso took the stage around 11 p.m. and entranced the crowd with tracks including "Calling" and "Raise Your Head," ranked among the top hits of 2011, and his remixes of songs such as "Pressure," "Good Love," "Titanium," "DEVolution" and "Heiress of Valentina." The crowd went wild raging to his mixes, and as the night grew on, the energy levels just seemed to build higher and higher.
Pi Kapp brought about this event with the help of Art of Electronica (AOE). They bring a lot of big dance music shows to the area such as Dayglow, Avicii, and Dancegiving. AOE assisted them with the marketing, procurement and production. Through their promotion network, combined with the hard work of Pi Kapp, the event has been largely successful. It had top-of-the-industry lighting and sound professionals, sparing no expense on production, which ensured it was a truly epic show. Props to both AOE and Pi Kapp.
Let's Rage Clothing sponsored the event, with 100 percent of the profits donated to Pi Kapp's national philanthropy, PUSH America.  PUSH America is focused on helping children with disabilities by sponsoring accessibility projects as well as various programs that work directly with the children. Dave Polinow, chapter president of Pi Kapp, wrote, "Still crunching the numbers, but we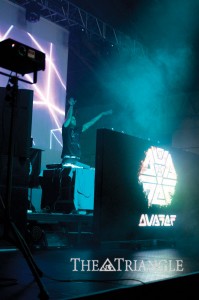 Drexel fraternity Pi Kappa Phi worked with AOE and PUSH America to bring popular performer DJ Alesso to the Armory for a long night of dancing, fast-paced originals like "Raise Your Head" and solid remixes last Saturday, Feb. 18.
're hoping to make a great contribution to PUSH America. Your energy last night made all of the effort planning worth it!"
The event as a whole was very well planned. The entry was organized, and the fast-moving line ensured that no student would freeze standing out in the cold, which I am sure everyone was thankful for. The Armory could accommodate a good number of people, so the pushing and nudging stayed to a minimum. The crowd danced all night, and peers took in the music to add to their college memories. DJ Alesso truly did leave a footmark on the console of the Drexel Armory.