I'm generally a fan of bands with curse words in their name. They're unapologetic, rowdy and just seem to have more fun. They let you know right off the bat that they're not going to play by the rules, and rest assured, their music won't either.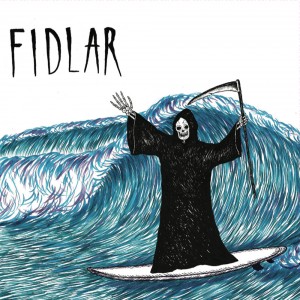 Last week, by the grace of the surf-punk gods, I stumbled upon newcomer FIDLAR, which quickly asserted itself on my shortlist of best irreverent bands. A quick search on Urban Dictionary revealed the phrase behind the acronym, which stands for "F–k It Dog, Life's A Risk."
This saying is to skaters what "YOLO" is to hip-hop enthusiasts. It's about making brash decisions while you're young because, hey, we'll all be six feet under one day. FIDLAR's self-titled debut album, released Jan. 22, reflects this mantra by describing a lifestyle of debauchery underlined with anxiety about growing up.
The album includes odes to the band's favorite substances: weed ("Wake Bake Skate"), booze ("Cheap Beer") and cocaine ("Cocaine"), and at times you wonder whether FIDLAR has more vices than virtues. You almost feel bad for the guys, but they're so brazenly satisfied with their lifestyle that you soon forget you're listening to some washed-up skaters circling the drain and begin to appreciate what they're doing musically.
Naturally, FIDLAR shares some characteristics with Wavves, likely the most widely recognized surf rock group out there right now, but I'll stay away from comparing the two. You see, FIDLAR's roots go further — think Pixies crossed with early Weezer plus a heap of drugs.
For me, "FIDLAR" is slathered with nostalgia. It took me back to the first time I heard "Doolittle," the Pixies' sophomore album. Both make use of filtered vocals, dissonant guitar progressions and "hot rod rock" themes, all of which helped make the Pixies a hot ticket in their day. You could seamlessly tuck Pixies classics like "Here Comes Your Man" and "Gouge Away" into a FIDLAR set list, and no one would bat an eye.
"FIDLAR" is largely composed of short, petulant vignettes with punchy choruses that form catchy tracks that end too soon. Take the tracks "No Waves," "LDA" and "Gimme Something," for example. They probably best represent the mood of four twentysomethings who are just looking for their next rush — whether it be in a bottle, on the beach or laying next to a woman.
"The Lost Boys" might be a more appropriate title for this band, whose members have no desire to don the shackles of adult life. Jobs, bills, love — who has time for it? Especially when you're busy making music like this, music that makes you want to say "FIDLAR" and go off somewhere to reclaim your youth.
I see great things in this band's future. Old-school fans of '90s grunge will flock to these guys, and the album is a sign that we might have a surf rock revival on our hands, so I'll grab my board and get suited up. See you at the beach.