On Thursday, Sept. 8, the Trocadero presented loyal fans of Philadelphia's outrageous showpiece, "It's Always Sunny in Philadelphia," with a premiere party for the show's seventh season. Hopefully a tradition in the making, the occasion marked the second annual party for the show's return to FX Networks Thursday, Sept. 15.
Preston and Steve, radio DJs from 93.3 WMMR, were the emcees for the evening. Guests were kept constantly refreshed by Coors Light, who sponsored the event.
At 7:30 p.m., the line at the door on Arch Street trailed on forever, forcing us to wait a while before receiving entry. Inside, the favorite independent rock venue provided a much cozier, friendlier locale, crowding the main floor with standing tables, and the press/VIP balcony was agreeable. The screen projected onto the stage reeled animations of the Green Man (a iconic costumed "Sunny" character who debuted in "The Gang Gets Invincible") traipsing the Coors snow-covered mountains, sometimes accompanied by a Kitten Mittens-adorned raccoon.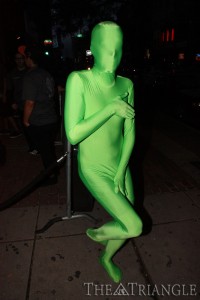 Preston and Steve played an improvised recorded message of Rob McElhenney, Glenn Howerton, Charlie Day, Kaitlin Olson and Danny DeVito addressing the crowd before airing up "Mac's Big Break." The episode choice was a smart move, as it not only brought back recurring favorite characters like Cricket and the Waitress, but had Charlie and Mac gearing up for the chance to take a shot from center ice at a Flyers game. The episode was followed by a break — during which time patrons grabbed free hot dogs, cheese steaks, Tastykakes and more Coors — followed by a "Sunny" classic: "The Night Man Cometh."
While a third break taken after this episode was not at all necessary, the debut of the first show from season seven made it worth the wait. Entitled "Frank's Pretty Woman," the episode revolved around Frank's new love interest, a dirty, crack-fiend hooker named Roxy, to whom he plans to propose. While Dennis, Dee and Charlie concoct plans to thwart their engagement and "Pretty Woman" Frank's new girl, a newly fat Mac is too busy eating burritos and visiting the doctor with Dennis, who is worried about his friend's health, to tag along in their shenanigans.
"Frank's Pretty Woman" was incredibly well received by fans, many of whom recognized an increase in the use of Philadelphia backdrops and locations. If the show continues to move in the direction set by episode number one, expect whole new outlets of creativity in the plots developed by Howerton, Day and an overweight McElhenney, who outdid themselves this time in categories of shock and gore. As I overheard a fan say, "I didn't believe it could happen, but they managed to outdo themselves!"
"It's Always Sunny in Philadelphia" returns Thursday nights in the fall at 10 p.m. on FX.