Getting started in the fashion world is difficult for any young designer, especially in Philadelphia, where the scene is still developing. However, Art Institute student Michael Thomas is here to "put Philly on the map for fashion." He's off to a strong start with his line titled Faithful, thanks to perseverance and an ability to dress women of all shapes and sizes.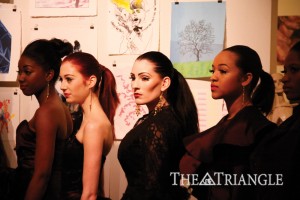 Michael Thomas, as Art Institute student, recently launched his fashion line 'Faithful.' Thomas presented his plus-size fall and winter collection during a March solo show at Fleisher Art Memorial.
In March he presented his fall-winter collection in a solo show to an intimate group of family, friends and industry professionals at the stunning Fleisher Art Memorial. The collection was inspired by a flower he was given, which offered a rich color palette "as the days went by [and] it started to age." Ranging from rich reds to deep eggplants, the colors were perfectly complemented by the dip-dying technique used to give depth to the structured pieces. The clothing possessed the important quality of being able to transition seamlessly from day to night, something essential to the modern woman.
Glamorous ruffled blouses offset fitted skirts and pants. Thomas even included a few event gowns in the 18-look collection. The unique dresses will interest women who don't want to worry about showing up in the same dress as someone else. Each look displayed Thomas' attention to craft with important details like leather piping or dip-dyed bias strips. These special additions show the hand behind the work and are the reason to shop local designers.
A noticeable feature of the collection was the range of models chosen to display the clothing. The girls varied in size and shape — a great decision that helped set Thomas' work apart from his contemporaries. The fashionable women of this city, who are less likely to be as extremely thin as their New York City counterparts, will appreciate that Thomas designs clothes for real women. He says he aims to dress women in the size range 6-14.
Despite the organic inspiration, the collection had a sculptural feel to it. This was complemented by the soaring architecture of the Sanctuary in the Fleisher Art Memorial. The historical Romanesque church, lit with dim red lights, set the mood for romantic hand-crafted clothes.
When he saw the space, Thomas knew it was perfect and "just pulled out [his] credit card." The entire collection was an undertaking created and funded on his own. If nothing else, he has demonstrated an unwavering conviction to fashion.
"I love to design clothes for women," he said, and when he gets an idea for a collection, he follows through.
In addition to his collections and schoolwork, Thomas interns at Oscar de la Renta in New York City. Only the devoutly passionate can balance that kind of workload and love every minute of it. To say the least, he has the fashion bug, and his desire to succeed — no matter the challenge — ensures that his name will be seen in the future. Check out Faithful on Facebook or at faithfulmt.com.