Annie Clark, better known by her stage name St. Vincent, put on an enchanting and transcendent show Feb. 28 at Union Transfer. Her fourth studio album, the self-titled "St. Vincent," debuted only a few days earlier, Feb. 25. It quickly received critical acclaim; The Guardian gave it a perfect five out of five stars, and even Pitchfork gave the album an unusually high rating of 8.6 out of 10. Fans who came out to Union Transfer to see St. Vincent were extremely excited to hear the new hit singles from the album. Three years ago in 2011, Clark debuted her third album, "Strange Mercy," to a sold-out crowd at Union Transfer. Now three years later, she once again rocked the Union Transfer stage with a new album and completely new look.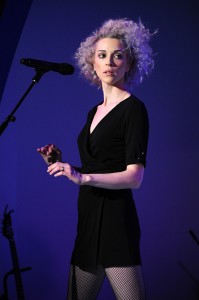 Opening for St. Vincent was electronic experimentalist Holly Herndon. Her set included extravagant trance-like beats that had the crowd swaying to and fro. Each song seemed to blend into one another. At one point it felt as though the audience had been transported to a strange and surreal universe. A perfect opener for the mystical St. Vincent, the crowd was ready to be awed by the combination of beauty and charm that St. Vincent radiates onstage.
As the crowd waited for St. Vincent to emerge onstage, a robotic voice requested that those with cameras and phones refrain from taking digital recordings of any kind. This quirky yet cool announcement went along with the theme of "Digital Witness," one of Clark's new songs off of "St. Vincent," that touches on the issue of being obsessed with social media. After the crowd wailed in excitement, St. Vincent finally appeared looking beautifully futuristic with her lilac, mad scientist-esque hair and a robotic demeanor. Her look complimented her music throughout the show; being both heavenly and beautiful, she also manages to pay homage to new wave. With her bandmates at her side, they shuffled around the stage in a well-executed bit of choreography. To start off the show with a burst of vitality, St. Vincent began to play "Rattlesnake" and quickly the electronic tune rumbled throughout the venue. While playing through a flawless set list, St. Vincent looked like a piece of artwork, with deep blue eye shadow adorning her porcelain skin and her robot-like movements making it seem as though she was gliding back and forth across the stage.
The audience roared as Clark played "Cruel," a hit song off of her album "Strange Mercy." Finally, Clark spoke to the audience: "I feel like we go way back," she said. The audience applause reverberated off the walls while she continued, "You were all born before the 21st century." More cheering. It seemed as though Clark could have said anything and the crowd would have eaten it up. Her monologue tactfully ran into her second single off the new album, "Birth In Reverse." Clark went on to play an older song from 2009's "Actor," "Laughing with a Mouth Full of Blood," and then shifted into "I Prefer Your Love," a sweet, romantic sounding song off the new album. Everything Clark did was flawlessly executed, down to her solo guitar riffs and her second monologue, in which she told the audience, "Your family doesn't know everything about you. Your friends call you 'Peaches' for some reason you can't remember," and she continued into a darker tone, "You sit on the bus and look around thinking, 'We're all going to die.'"
Playing one of her most popular songs, "Cheerleader," Clark nailed the long-awaited performance of this song, all captured by a killer light show that made Clark appear to be some kind of dreamlike goddess. Coming to the end of her 90-minute performance, Clark announced, "My friends, it's been a pleasure, a total pleasure." Every time Clark spoke and shuffled around the stage, it just kept adding to her flawless showmanship and immaculate talent. Her words were like poetry and the audience was taking in every verse. She had a quick costume change for her encore, putting on a black, boxy, futuristic jacket. She then lit up the stage once more to play "Strange Mercy" and completed the evening with "Your Lips Are Red" off her 2007 album "Marry Me." No one else could have pulled off such a compelling artistic performance as St. Vincent did, all while rocking out and keeping the audience invigorated and wanting more.