The late Whitney Houston and American Idol alumna Jordin Sparks star in the musical film "Sparkle," set to release Aug. 17. The film, also starring Carmen Ejogo and Tika Sumpter, is a remake of the 1976 version. Director Salim Akil decided to move the original 1950s setting to the Motown scene of the 1960s.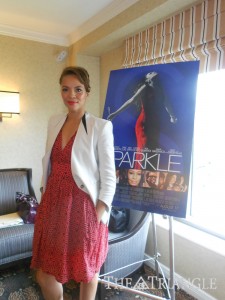 Ejogo stopped in Philadelphia to discuss how she prepared for the film, her role as Sister and what it was like to work with Houston.
Ejogo was raised in London but had always dreamed of coming to the United States to live out her acting career. Growing up in England also gave her the task of masking her British accent to play the role of Sister. She trained with a dialect coach who gave her voice recordings of young girls living in Detroit during the 1960s to help her recognize how she was supposed to sound.
The week before filming, the three girls went to boot camp to learn all the songs and choreography. Ejogo struggled through learning the choreography, whereas Sparks and Sumpter picked up the moves faster. However, it was fitting for her character, who digresses away from the rehearsed moves and lyrics, putting her own spin on each song.
"There's an authenticity in the messiness of real life. It's not 'Dreamgirls'; that's very polished and about girls who made it. This is about girls who haven't yet gotten there and have to figure it out together," Ejogo said.
Houston plays a hardened single mother on camera, but when the cameras weren't rolling she was a real-life mom to the girls.
"The fact that she was so nurturing and wanted to make sure everything was good for us, this was her moment, this was her comeback, but she was as invested as making sure it was our moment too," Ejogo said. "That's a rare thing for someone that has reached that level of iconic status, to have that much interest in how others were faring. She used to always say, 'Are my babies alright?'"
Houston had always been very conscious of the pitfalls of the industry, mirroring her character as an overprotective mother who once sought fame for herself. Throughout her career Houston had supported young talent in the industry.
"In this movie so many of us get a breakout from people's expectations of what we do and what we don't do. We have been given this opportunity to really blossom as actors, and it's a great ensemble!" Ejogo said.
Looking at Ejogo's past work, she has never played the obviously sexy girl because she feels it sends a dangerous message to young girls about objectifying their bodies for men. But that changes with her role as Sister.
"Sister is a woman that chooses to objectify herself and use her sexuality, the one tool she has at her disposal, and it's what destroys her; it's what ruins her. I feel this is a really powerful message to send to young girls at this moment in time," Ejogo said.
"Sparkle is going to make you laugh and also make you really cry."