The ballet version of "A Midsummer Night's Dream" is fortunate to have been created by three of the most ingenious men in each of their respective fields: playwright William Shakespeare, choreographer George Balanchine and composer Felix Mendelssohn. The contributions of these three men work so well together that it's hard to believe that this is not a collaborative piece. However, the very opposite is true. Shakespeare wrote the play in the 1590s, Mendelssohn wrote the music in 1826, and Balanchine choreographed the ballet in 1964.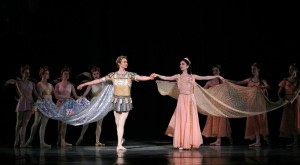 It's one of the most well-known and celebrated ballets of all time due to its relatively short runtime (For those of us who are not exactly ballet buffs, this is welcome. Bonus: it's better for kids.) and dynamism. Additionally, knowledge of the original play, while probably helpful, is not necessary.
The Pennsylvania Ballet Co. performed "Midsummer" March 7-17. What I found most impressive about their performance (if it is even possible or fair to pick one thing) was how well the dancers were able to react to the dynamic shifts in the ballet's mood. While it is a comedy, the characters still interact as real people would. That is to say, they experience anger and sadness just as anyone would. The audience experiences this too, if these emotions are expressed well onstage — and they were. Ballerinas swooned gracefully in the arms of their lovers and fell sobbing to the ground when they were spurned. Puck crept comically about the stage and got the audience laughing almost every time he appeared.
The costumes were nothing short of beautiful, both in their design but also in their practicality within the ballet. The majority of it takes place in Fairyland. Most of the costumes were light-colored and gauzy, which served two purposes. First, they reflected fairly conventional depictions of fairies, right down to the tiny wings attached to the backs of the costumes. Second, they did not act as a distraction from the performances themselves.
The humans' costumes were largely practical. There are two couples in the story whose affections tend to change from one person to another very rapidly due to Puck's meddling. Therefore, one couple was clad in red and the other in blue. This made it quite easy to see who belonged with whom. This added to the comedy of the story, as well. It eventually became pretty funny when a blue-clad woman started chasing after a man in a red coat.
One of the best elements of this ballet was the group of bugs that hopped around the stage intermittently. To supplement the woodsy Fairyland setting, the company had members of its ballet school take the stage as insects. These little bugs were aged 8 to 14 and were honestly adorable.
The Pennsylvania Ballet returns to the stage May 9 with "Carnival of the Animals." The company celebrates its 50th anniversary next year.