What can you tell me about riesling?
If your answer is that it's a sweet wine, you get a C-plus. But you aren't totally alone in believing so — it's the same false impression that many people share. Even my very own mother, a woman well versed in the world of wine, describes riesling as "the wine on training wheels." She's not entirely wrong — it is popular among many young wine drinkers that grew up on syrupy sodas and sugary juice boxes and instinctively turn to sweeter wines when their tastes for it first emerge.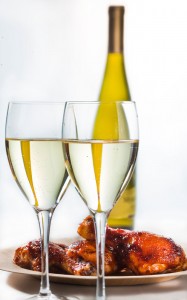 But what most fail to recognize about riesling wines is how extremely diverse and amazingly versatile they are. While many of them are sweet, plenty are not. They range from incredibly sweet, dessert-like wines to bone-dry, a common descriptor meaning that there's a stark absence of sweetness.
Along with the coveted chardonnay and the widely familiar sauvignon blanc, riesling is considered to be one of the three "noble grapes," which make wines that are particularly expressive of the places in which it is grown. It originated in Germany, but the grape is also grown in Austria, Alsace in France, the Finger Lakes in upstate New York, some parts of Washington state, and even Australia. Although it is often hailed by many wine critics and sommeliers as the greatest grape in the world, riesling sadly doesn't get the same respect from everyday wine consumers.
"Riesling is a bit of an underdog grape," Michael McCaulley, wine director and managing partner of Philadelphia's Tria Wine Bars, said. "We don't have the full picture in America of what riesling is."
The biggest problem it faces is that nobody spends enough quality time with the grape to truly understand its varying personalities. But one season-long event is dedicated to changing that.
In 2008, sommelier Paul Grieco started the "Summer of Riesling" in his East Village wine bar Terroir in New York with a relatively simple goal — he wanted to get people to drink more riesling. So he made it the only white wine offered by the glass throughout the entire summer. Now in its fifth year, this successful and trendy wine extravaganza has spread nationally and is even being celebrated right here in Philadelphia.
One of several establishments in the area who have agreed to feature three rieslings by the glass all summer long, Tria Wine Room, located at 31st and Walnut streets, pours a bone-dry, an off-dry (meaning a hint of sweetness), and a downright sweet riesling every day for guests to taste and have fun with.
"The 'Summer of Riesling' helps to make the wine fun and less pretentious and scary to guests," Sande Friedman, director of education at Tria's Fermentation School, said. "It's a cool way to get a new perspective on the different kinds."
But you don't even have to leave your own apartment to celebrate the season dedicated to riesling. There are endless options waiting for you in wine shops, many of which won't cost you a fortune to explore. Some of the best values can be found from Germany, where 60 percent of the world's riesling vineyards are. But these bottles also come with some of the most perplexing labels, with German words like "trocken" and "auslese" that can be cumbersome to decipher.
To simplify the ordeal of finding a quality riesling, look for these two words on a German label: "kabinett" and "spatlese." Each refer to how ripe the grapes were when they were picked — kabinett is harvested sooner than spatlese, meaning it has less natural sugar. But be careful — that doesn't necessarily mean they are going to be less sweet wines.
If you can't remember what any of those foreign words mean once you get to the store, turn the bottle over and check the alcohol percentage on the label. Although not true for all wines, this tip can be useful when determining whether a German riesling will be sweet or dry. One with an alcohol content of 8 percent is going to be sweeter than one with 11 percent.
"A rule of thumb if you know nothing about German riesling," McCaulley suggests, "is that the longer the name on the bottle, the higher the quality."
One up-and-coming region to look to for great values is the Finger Lakes in upstate New York. Riesling is a very sensitive grape and doesn't grow well everywhere, but this area has the same cool climate as Germany and offers some very promising yet affordable wines.
The best rieslings are crisp and refreshingly acidic, balanced with lively fruit flavors or hints of minerality. Some have strong floral aromas but can also have distinct notes that remind me of how rubber glue adhesive smells — in fact a desirable trait. With high acidity levels that work well with just about every cuisine, it is also one of the most food-friendly wines there is. The other day I enjoyed a glass alongside some spicy Chinese delivery dishes and was able to drink what was left over with a fresh salad the next day.
With the "Summer of Riesling" upon us, your homework is to learn more about one of the world's greatest grapes. Whether you'd rather drink dry or sip sweet, there's a riesling for you.
Recommendations:
These wines are available in Pennsylvania Wine and Spirits stores, but you can also discover the diversity of riesling at local restaurants participating in the Summer of Riesling like Tria, a.kitchen, McCrossen's Tavern, Pub and Kitchen, and Vintage Wine Bar and Bistro.
Franz Reinhart Bernkasteler Kurfurstlay Riesling Kabinett 2009
Mosel, Germany, $9.99
8.5 percent ABV
This kabinett presents with the classic petroleum glue smell and sweet citrus aromas with juicy apple flavors and a touch of minerality on the finish. A little subtler than sweeter rieslings and a great bargain for those just getting started.
Schmitt Sohne Piesporter Michelsberg Spatlese 2009
Mosel, Germany, $11.99
8.5 percent ABV
Made from fully ripened grapes, this spatlese is pale in the glass with youthful honeysuckle aromas. A great college-girl wine that has an elegant sweetness with hints of apricot and a crisp, acidic finish.
Red Newt Cellars Riesling 2009
Finger Lakes, N.Y., $11.49
11.7 percent ABV
Golden in color with classic German riesling aromas, this wine expresses juicy flavors of fresh peaches and leaves an enjoyable sweetness lingering in your mouth. A great example of how beautifully sweetness and acidity can work together.