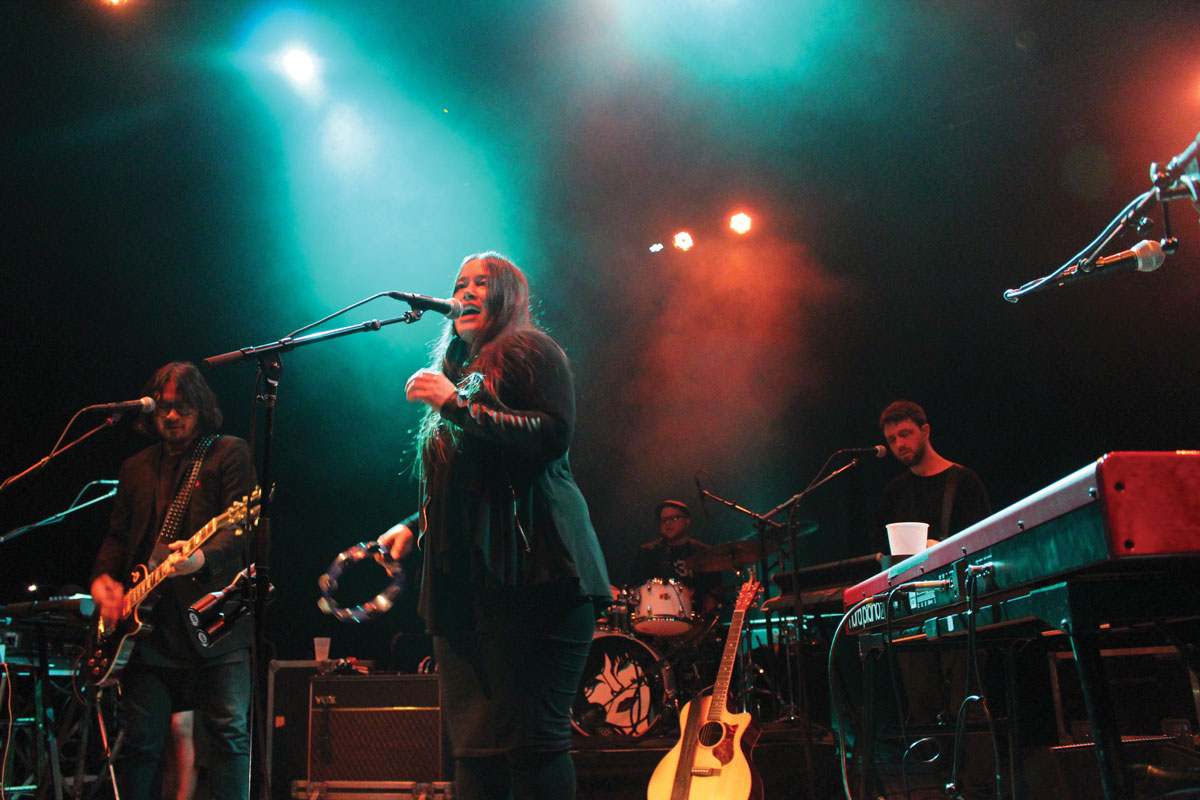 Friday, Sept. 23 was a special night for Rachael Yamagata. Besides being the release date of her new album "Tightrope Walker," it was also her birthday and the day she got to play one of Philly's coolest venues, Union Transfer. It turned out to be a night to remember for audience members as well.
Yamagata's new music is a significant departure from her previous style. Much of her discography is comprised of slower, piano-driven heartbreak songs. On "Tightrope Walker," Yamagata took a more positive approach, and I'd say it works in her favor. The album is full of optimistic, anthemic songs that make for great live material.
I hadn't gotten a chance to listen to "Tightrope Walker" between the time it was released that morning and the concert that night, so several songs were totally new to me. She started the set with two new songs that I didn't recognize. They were solid tracks, and they set the tone for how the rest of the night would go.
The new song "Tightrope Walker" really impressed me. It's a lot bluesier than anything else she's written and it's got a pretty catchy hook that I found myself singing hours later. This was the first time I really noticed guitarist Michael Chaves. He's so much more talented than he gets credit for. He shreds on many of her songs, using more guitar pedals than I could ever imagine keeping track of. He wrangled incredible sounds from his axe, sometimes using effects to make it sound like anything but a guitar.
Her singles released earlier this summer were in heavy rotation on my Spotify weeks before the show, and they were a real treat to hear live. "Over" is a mid-tempo piano rock jam that would've fit nicely in an episode of "Scrubs," and that kind of energy went over very well with the audience. "Let Me Be Your Girl," meanwhile, is a smooth, sensual earworm of a song. After playing the opening measures of the song, the whole band stopped and began to sing "Happy Birthday," catching Yamagata off guard. Several family members ran onstage with a cake and decorations, giving her the five-star birthday treatment before letting her continue on with the set. It was a cute moment, and it was nice to see Yamagata beam with joy.
Yamagata's stage presence is half the reason I love seeing her in concert. She has such a genuine and kind personality, and she is extremely charismatic onstage. She tells jokes and  stories, and even chats with members of the audience in between songs. It's an intimate connection between the performer and audience that many concerts lack.
My favorite songs of the night were "You Won't Let Me" and "Dealbreaker," both from her 2011 album "Chesapeake." She ended her set with a mashup of "Nobody" and Eminem's "Lose Yourself," before coming back onstage minus the band for a short encore. After talking to the audience and listening to drunk men yelling out requests, she started to sing "Elephants," without any accompaniment. Listening to her sing a cappella really solidified my high opinion of her vocal talents. The only other time I remember seeing a singer command a room like that was when I saw Julien Baker at Underground Arts a few weeks ago.
It was nice seeing Yamagata at Union Transfer for the second year in a row, and yet again, I was probably the youngest person in the room. Apparently she's really big in the 39-going-on-40 community, and I can see why. To me, her music is perfect for fall weather. Before Mother Nature takes her reins and leads us into the bitter months of winter, I urge you to take a nice stroll while listening to her debut album "Happenstance." If you follow my advice, maybe I'll be seeing you at her next concert.