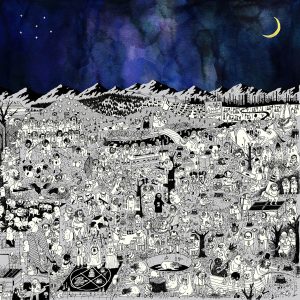 The last thing Father John Misty needs right now is another article. Honest to God, it feels like every time I like log onto Facebook, there's another album review or interview. Needless to say, his new album, "Pure Comedy," has been getting a lot of hype.
Released April 7 via Sub Pop, "Pure Comedy" features a side of Josh Tillman that is a whole lot gloomier, preachier and more cynical than either of his last two albums under the moniker Father John Misty. Some of the themes include the human condition, life in the technological age and a little bit of politics.
The album starts out with the title track and lead single, "Pure Comedy." The piano-driven ballad is a doozy; it offers a depressing view on the paradoxes of human life, as well as Tillman's criticisms of religion. The song is decently catchy but something is off — where Father John Misty songs usually feature a healthy dose of wit and humor sprinkled throughout the lyrics, here they come across more arrogant and pretentious.
The production on the song, however, is great. It builds up to a climactic chorus in which Tillman screams the lyrics at the top of his lungs: "Oh comedy, oh it's like something that a madman would conceive!" And then the music becomes hushed and he delivers the painfully corny closing line, "I hate to say it, but each other's all we got." Maybe the lyric is self aware and tongue-in-cheek, but I get the feeling that it was Tillman trying, possibly for the first time in his career as Father John Misty, to be serious.
The second song, "Total Entertainment Forever," is one of my favorites off the album. The only song under three minutes on the record, it's a fun song that most reminds me of the Father John Misty I have come to love over the past couple of years. It's upbeat, it's got some saxophone, what else do you need? The lyrics aren't bad either (except for when he refers to us as a "race of demented monkeys)."
"Things It Would Have Been Helpful to Know Before the Revolution" is Father John's fantasy of a future where the world returns to its primal state. A bit too heavy on the melodrama, this song fails to leave an impression.
"Ballad of the Dying Man," the fourth single released, is another song that I have grown a liking to. It's a mid-tempo song with basic instrumentation (piano, guitar, bass, drums), but it's catchy folk-rock melody makes it one worth revisiting. The lyrics are centered around a dying, egotistical man who worries about what the world will be like without his oh-so-important social commentary. It's ironic, because he is not so different from the man he's singing about. But maybe he knows that, and it's another meta, self-mockery. With Father John Misty, it's impossible to tell sometimes.
After the painfully boring "Birdie," FJM throws in the unnecessarily long 13-minute acoustic ballad "Leaving LA." In the eighth verse of the song, he describes the song, singing, "Some 10-verse chorus-less diatribe plays as they all jump ship. 'I used to like this guy. This new shit really kinda makes me wanna die.'" Yeah, pretty much. The song's self-awareness does not make it any less intolerable.
Following the forgettable, mid-tempo "A Bigger Paper Bag," Father John hits us with another forgettable, slow song: "When the God of Love Returns There'll Be Hell to Pay."
The next track, "Smoochie," isn't a terribly interesting song, but it serves as one of the better mid-tempo songs on the album. Its slide guitars and harmonies are refreshing after hearing so many piano ballads. But worry not, Father John Misty takes it right back down with the depressing, piano-driven "Two Wildly Different Perspectives." This song is actually done very well; the lyrics posit a defeatist view on war, lamenting how "everyone ends up with less, on both sides." It's one of the better songs on the album, but I don't enjoy it as much in the context of the album because of how many other slow piano ballads precede it on the record.
"The Memo" is no different from the rest. I just finished listening to it for the third time before writing this sentence and I already can't remember how it goes. By the time the 10-minute "So I'm Growing Old on Magic Mountain" rolls around, you'll want to die. The 10 minutes crawl by; at times it seems like the BPM is in the single digits. You'd think he was trying to torture the listener — and who knows, maybe he is, the guy truly is a wild card.
If you manage to stick it out all the way to the last song, you're rewarded with the six-and-a-half-minute "In Twenty Years or So." It's slow, it's boring, but it's all good, because by the end of the song he solves his existential crisis! "There's nothing to fear," he sings towards the end of the song, bookending the album.
"Pure Comedy" isn't terrible, but it's a disappointment. There was a lot of buzz about this album because of how successful 2015's "I Love You, Honeybear" was. "Honeybear" was a perfect follow up to his solid 2012 debut, "Fear Fun." He had a lot of upward trajectory, but I'm afraid he missed the mark on this one.
There are some good songs, but the balance is off. 2015's "Bored in the USA" is a slow piano ballad, but it worked so well in the context of "I Love You, Honeybear" because it was a change of pace from the rest of the album, which was more upbeat. This time around, Father John Misty tried to make an album of depressing songs but it ended up making for an exhaustingly boring listening experience. The performances are all solid and the mixes sound great, it's just not an enjoyable album to listen to.
"Pure Comedy" just takes itself a little too seriously for a record that spends so much time criticizing humans for taking themselves so seriously. The whole mission statement of Tillman's Father John Misty alter ego was to make music that is outlandish and fun.
On this record, Tillman tries to be profound and the result is way too much doom and gloom. Hopefully he will choose to tone back the existential dread on his next album.