The Artist
It is both an homage to, and a celebration of, the classically great films. It looks as if it could have been made yesteryear, yet it surpasses the technical ability of all those older films. Without significantly altering the style or using cinematic cheats, "The Artist" modernizes the silent film genre and is a completely new take on a commonly understood story. There are elements of the buddy comedy and romantic undertones. There are dance numbers, stories of Hollywood and even a dog that does tricks.
Set in the late 1920s just before the introduction of "talking pictures," the movie stars Jean Dujardin as silent movie star George Valentin. At the top of his career, Valentin refuses to abandon the silent films that made him famous in favor of newly invented "talkies." As a result, he sees his fortunes wane as his young friend, Peppy Miller, becomes one of the first starlets of the next era in Hollywood. The plot points in "The Artist" are familiar, but it is in the execution where the originality and wonderment of the movie really are. Credit to Frenchman Michel Hazanavicius for putting together an extremely clever film, one that the Pretentious Film Majors think is the best of 2011.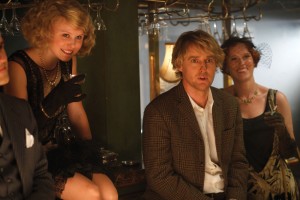 Rachel McAdams and Owen Wilson starred in Woody Allen's European drama "Midnight in Paris," featuring cameos from famous intellects and artists of the 1920s such as F. Scott Fitzgerald, Ernest Hemingway and Gertrude Stein.
Attack the Block
For the directorial debut of Joe Cornish, "Attack the Block" will go down as a great way to burst into the entertainment world. The movie is about a street gang consisting of young teenagers that must defend themselves against an alien invasion. The biggest celebrity in the film is Nick Frost, but the real stars are the young actors who steal the show — they are just fantastic to watch. "Attack the Block" does not lose that authentic feeling of youthfulness in its actors despite not being a movie for kids.
Seeing it for the first time will get your heart pounding because Cornish manages to capture the terror of feeling chased and not exactly knowing what sort of monster is after you. For a film with a relatively low budget, the aliens are actually very scary — they are unnaturally dark except for their massive, sharp teeth. That sense of fear is one of the great things about this movie. For a fun night with jumps and adrenaline rushes, "Attack the Block" is just right: the second-best movie of 2011.
Girl with the Dragon Tattoo
When it was announced that the hit Swedish film "The Girl with the Dragon Tattoo," based on the novel of the same name by Stieg Larsson, would be remade for American audiences by David Fincher, it was met with skepticism. Considering how recent the Swedish original had been released (2009) and its box office success in America, a remake seemed unnecessary. Luckily, Fincher's adaptation of the drama/thriller does not disappoint and is one of the best films of the year.
"Dragon Tattoo" is not a story for the weak-stomached. It's not a gory tale but a graphic one. There are many violent details involving murders and an intense rape scene that is uncomfortable, to say the least. Rooney Mara pulls it off with Fincher's gritty elegance and a fearlessly hypnotizing performance in the lead role. After her performance as the troubled and possibly psychotic Lisbeth Salander, Mara deserves respect as an actress in her own regard. Fincher's "The Girl with the Dragon Tattoo" may have been met with skepticism at first announcement, but upon watching this film, there is no reason to think that it won't deliver. For what could have easily been the most disappointing film of the year, it turns out to be one of the most intense and thrilling.
Shame
Steve McQueen's hypnotizing tale of a sex addict (Michael Fassbender) living in New York City made headlines for its NC-17 rating, but the film's quality is the real story. Done in long, long takes, McQueen allows the audience to see everything in this disturbingly frank portrayal of a man's private life. Fassbender was criminally snubbed in the Best Actor race, as was the actress who portrays his bipolar sister, Carey Mulligan. Mulligan's beautifully pained cover of "New York, New York" is one of the film's standout moments, which both allows Mulligan to display her talent and gives Fassbender another opportunity to smolder for the camera. This is the type of movie that stays with the viewer and leaves those who saw it at this year's Philadelphia Film Festival left in complete silence, but don't be mistaken. "Shame" is a beautiful movie. For those who dare to explore the dark world McQueen creates, it's a must see.
Martha Marcy May Marlene
Every so often, there is a film that chills the soul and messes with minds. This year that film is "Martha Marcy May Marlene." The debut of writer/director Sean Durkin stars the younger sister of the Olsen twins, Elizabeth Olsen, who delivers one of the year's most electrifying and horrifying performances. "Marcy May" is a psychological thriller about a girl, Martha (Olsen), who runs away from her life in a cult located in the Catskill Mountains and reunites with her high-strung sister and brother-in-law. The transition from life in a cult to a life in normal society proves to be increasingly difficult for the emotionally and mentally broken Martha. Elizabeth Olsen is so captivating as the broken Martha that it's hard to believe that she won't become a star completely separate from her already famous sisters. John Hawkes' portrayal of cult leader Patrick is horrifying yet charismatic, and it will without a doubt create buzz during the awards season. However, the real star of the film is Durkin, who shows a focused, subtle and intelligent approach to such a twisted film. If you are someone that goes to movies to be challenged emotionally and mentally, and possibly to have nightmares from the slow-building dread that makes this film so great, check out "Martha Marcy May Marlene."
Ides of March
In this engrossing political thriller, head campaign worker Stephen (Ryan Gosling) is working hard to prepare his presidential candidate, Mike Morris (George Clooney, also the director) for an important primary in Ohio. Along the way, Stephen finds himself facing a huge scandal that could end Morris' candidacy. "Ides of March" delivers plenty of twists and excellent performances from the whole cast, particularly Gosling. Well crafted and impressively witty, Clooney presents us with another terrifically original piece which explores the dirty underworld of politics.
The Muppets
 The grand return of some of comedy's most beloved characters finally took place this year as Kermit, Miss Piggy, Gonzo, Animal and everyone else returned to the big screen in "The Muppets." Written by Jason Segel ("How I Met Your Mother," "Forgetting Sarah Marshall"), the movie also featured music from Bret McKenzie ("Flight of the Conchords"), and the dry humor is evident in songs like "Life's a Happy Song." But credit should go to Segel, who leads this grand return. His big moment onscreen comes in the Oscar-nominated original song "Man Or Muppet," which also provides the film's best celebrity cameo in Jim Parsons of "The Big Bang Theory." Warm-hearted family fun, "The Muppets" was the seventh favorite film of the Pretentious Film Majors this year.
SUPER
Shut up, crime! "Slither" director James Gunn returns to the big screen with his quirky, insane black comedy, "SUPER." Frank (Rainn Wilson) is a depressed guy whose wife, Sarah, (Liv Tyler) leaves him for sly drug dealer Jacques (Kevin Bacon). In order to win his wife back, Frank does what any man would do and becomes his own superhero — the Crimson Bolt! In order to enforce crime in his town, the Crimson Bolt bashes wrongdoers over the head with a pipe wrench. With the help of crazed sociopath Libby (Ellen Page), Frank attempts to win Sarah back. The premise to "SUPER" might sound a little familiar, but do not be fooled — there is way more to this film than the action. Beneath the surface, "SUPER" has a lot of heart and beauty but also a lot of depth. Additionally, no movie with an epic animated dance title sequence can possibly suck.
Mission Impossible: Ghost Protocol
After four movies, they finally made the one that fits the title "Mission: Impossible."  "Ghost Protocol" assembles parts from the previous three films and adds on the directorial style of highly acclaimed animation director Brad Bird to make itself the best pure action movie of the year. Tom Cruise is still in the lead, but the other members of his team (played by Paula Patton, Simon Pegg and Jeremy Renner) are not there for one mission or dispatched of quickly, but actually get things to do. And it tells its story simply, moving quickly through each act from Moscow to Dubai to Mumbai as our team fights its way through problem after problem to save the world. It's worth seeing in IMAX, especially for Tom Cruise's climbing of the Burj Khalifa, which will definitely make your jaw drop and have you cling to your seat.
Hugo
Martin Scorsese's "Hugo," starring Asa Butterfield, is a visually tantalizing film that is equally appealing to kids as well as adults. It takes ode to the early days of cinema and is wistfully romantic to the days before mass media. Hugo attempts to keep a strong hold on his deceased father while working on the automaton that was left behind — it could never be predicted that Hugo would uncover the artistic past of a crotchety old man by the name of Melies. It is the relationship that is formed between Hugo and Melies that seems to bridge the gap between the two generations with a mutual love and fascination of inventing and film. Though this is a movie mainly focused on the trials of young Hugo and his journey to find his purpose in the world, it is equally about the early work of Melies and how he shaped film in the early 1900s. Scorsese both reimagined the work of Melies and also recreated the process while enhancing it with 3D technology. "Hugo" is the most ideal film for the 3D format and it is very visually pleasing as well as remarkably moving.
50/50
Will Reiser managed to couple laugh-out-loud humor and deep drama in this intelligent film about a man's struggle with cancer. "50/50" is as hard-hitting as it is realistic, and it benefits from great performances from Anna Kendrick, Anjelica Huston, Bryce Dallas Howard, Seth Rogen, and most notably Joseph Gordon-Levitt.
Super 8
JJ Abrams directs a fantastic homage to Spielberg with this emotional science-fiction film. The film feels like a mix between "E.T." and "Cloverfield" in the best ways possible. If you're looking for realistically lovable kids and an all-around good popcorn flick, "Super 8" is for you. Many PFMers loved this movie, and after spending most of 2011 near the top of the list, it finishes at No. 12.
Another Earth
Mike Cahill directs his co-writer and star Brit Marling in this bizarre drama with some sci-fi undertones. Marling's character struggles to cope with life after drunkenly driving her car into a family, and her hope of traveling to the recently discovered "Earth 2" provides "Another Earth" the platform for some of the most interesting philosophical questions we can ask in film, as well as pointing out how self-centered we're capable of being.
Hesher
Sometimes it takes a weird, crazy heavy-metal freak to bring a family together in the midst of tragedy. The refreshing story of "Hesher" is equal parts hysterical and moving. Directed by Spencer Susser and starring Joseph Gordon-Levitt and Natalie Portman, "Hesher" climbed all the way to No. 14.
Limitless
Eddie, a starving writer, becomes a multimillionaire after he takes a brain-enhancing pill. His success is short-lived when a loan shark gets his hands on the drug and stalks Eddie for more, threatening his new job, his girlfriend and even his life. Interestingly, all but one of the votes registered for "Limitless" by the PFM staff gave the film a 4/5 rating. At No. 15, "Limitless" basically marks the point where the list starts including movies that were rated higher than simply "really good."
The Help
"The Help" stars Emma Stone, Viola Davis and Octavia Spencer — three very different women in the Deep South during the 1960s who are faced with the reality of segregation still present in their modern society. These three women build an unlikely friendship when Skeeter (played by Emma Stone) attempts to catapult her journalism career by creating a secret writing project that breaks societal rules and tells the truth involving the African-American community and their place in the pecking order.
Midnight in Paris
On Woody Allen's grand tour of European cities, Paris provides the backdrop for a fantastical nostalgia-driven time travel movie. The latest Woody archetype is Owen Wilson's Gil, a "Hollywood hack" who hopes Paris will inspire his first attempt at real literature. Gil can't believe his luck when he finds himself in 1920 among F. Scott Fitzgerald, Gertrude Stein and an intensely dark and entertaining Ernest Hemingway, played by Corey Stoll.
Moneyball
Starring Oscar-nominated Brad Pitt and Jonah Hill, it's the human element that hit home for most of the Pretentious Film Majors in "Moneyball." Bennett Miller's engaging story of a poor baseball team benefitsfrom its sharp writing by the credited screenwriting of Steve Zaillian and Aaron Sorkin. The movie is much more than a sports movie — it's about the success of the hardheaded underdog.
 My Week With Marilyn
Not quite a biopic, this snapshot into the lives of Marilyn Monroe and Laurence Olivier, based on the diaries of Colin Clark, features a charming romance story amid the chaos that was Monroe's life. Michelle Williams may win herself an Oscar for her performance, but Kenneth Branagh is also fantastic in the movie.
"Harry Potter and the Deathly Hallows: Part 2"
A well-directed, well-acted film that closed out the Harry Potter series on a high note. Some of the crew passionately loved this movie to get it here at No. 20, but some either have not seen it or felt more passionate about other films.