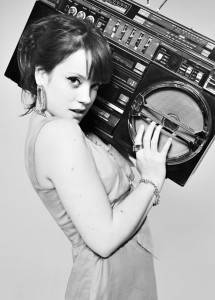 It's "hard out here for a bitch," and Lily Allen makes it harder for herself with critically panned videos and a cascade of egotistic antics. After a five-year hiatus, Allen, now a mother of two, returned on the scene, but this time without her usual catchy music and sharp lyrics. Allen's third album, "Sheezus," came out earlier this year and earned the songstress strong criticism for the video of her single "Hard Out Here;" I can see why. The video was slammed for its open approbation of the new Miley Cyrus culture that swears by twerking as the ultimate dance form. It was also condemned as racist for its portrayal of barely covered black dancers writhing about Allen.
Lily Allen has been touring all over the U.S. to promote her new album and was back in Philadelphia for the second time, having opened for Miley Cyrus earlier in August at the Wells Fargo Center.
She performed at the Electric Factory Sept. 19 to a crowd full of overly enthusiastic teenage girls and morose fathers who appeared rather mortified by her on-stage smoking gimmicks. Allen opened the show with "Sheezus" and had the crowd cheering to her music as she pranced about the stage, following the opener with tracks like "Not Fair," "Our Time," and "Everyone's At It." The set, which employed giant fluorescent baby bottles to match Allen's bizarre personality, looked innovative to me until I discovered that she had the exact same set during her entire "Sheezus" tour.
While her new album wasn't such a hit among the crowd, songs such as "Smile" from her debut album "Alright, Still" and "The Fear" from "It's Not Me, It's You" had the place raging with excitement. The show did rely on cheap thrills, though, and if it wasn't for the scantily clad background dancers (racially diverse, I must add), Allen might not have been able to hold the crowd for long.
Surprisingly, everybody happened to blissfully forget the opening act — Samsaya — which was an energy-packed performance with frontwoman Sampda Sharma giving tough competition to Allen's performance that was to follow. While Samsaya is yet to make a big name for herself, her music and vocals are rightfully deemed "very M.I.A. with a twist." The Indian-born Norwegian singer had many peppy, pop-infused tracks with traditional Indian sounds that had the crowd singing along. Songs such as "Stereotype," "Jaywalking" and "Bombay Calling" had sprinkles of autobiographical accounts hinting at Samsaya's upbringing. But as soon as Allen hit the stage, Samsaya's performance appeared pale as the entire place warmed up to the British pop star's magnetic appearance. Throughout her 90-minute gig, Allen had the place thoroughly entertained by chatting freely with the crowd and by dropping multiple F-bombs. She smoked cigarettes on a whim, and after a while, it appeared more like a mechanical gimmick than a wistful desire.
As Allen started performing "Hard Out Here," her dancers re-emerged wearing dog masks (portraying bitches) and twerked to reinforce their feminism-infused empowering messages. Allen closed her set with the "It's Not Me, It's You" song "F-ck You" and the crowd closely followed her antics — a hundred middle fingers waving in the fluorescent lights. How empowering, indeed.
There was a time when Allen's music possessed a certain ingenuity that contemporary pop stars back then seemed to lack. Her sharp-tongued lyrics were her identity, her originality — her unique selling point. But suddenly, the British songstress appears to have been reduced to a fancy act to titillate a new generation of teenage girls with a misconstrued notion of feminism. I don't judge her for smoking cigarettes on stage and I definitely don't judge her for jiggling her butt at the crowd. But what I, like many others, do judge her for is reducing her fearlessness to a marketing act repeated to the point of inducing apathy among her fans. I think what her fans yearn to see again is the audacious star masked under the cheeky, doe-eyed girl who won our hearts with "Smile." But what Allen's five-year hiatus has instead given us is only mediocre music worthy of opening a Miley Cyrus show.