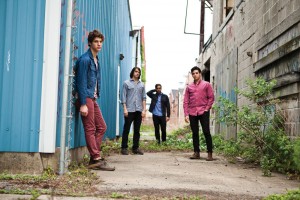 Senior music industry students Blair Ollendorf and Brandon Bost were randomly paired as roommates in the fall of 2009, and that is when Wild Rompit was born.
"We started playing music together and going to some open mics around Philly. We asked [senior film and video student] Sean Huber to play drums and recorded our first EP, 'Stampede,' over Christmas break. [Senior entertainment and arts management student] Paul Impellizeri joined at the end of those recording sessions, and that's that!" Ollendorf, the lead singer and guitarist, said.
All four band members are originally from New Jersey. Ollendorf and Impellizeri are from southern New Jersey, and Huber and Bost are from northern New Jersey.
They describe their music as "heart-pounding indie rock tinged with fervent idealism, honest lyricism and gritty vocals," Ollendorf said.
Their inspirations range from multiple artists and genres of music, from Tallest Man on Earth and The National to Adele and Johnny Cash.
"We believe in the power of great songwriting, and we hope the best of our influences comes out in our songwriting to create our unique sound," Ollendorf said. The mixture of Ollendorf's undeniably unique vocals and honest lyrics gives the band an extraordinary sound.
A highlight of 2012 for Wild Rompit was when the band was part of The Mann Center's Rising Stars of Tomorrow program, which included a performance for over 5,000 inner-city children from ages 5 to 10.
"It was awesome to see the excitement in the kids' faces when we played. Hopefully we inspired a few kids to pick up an instrument and rock out," Ollendorf said.
Wild Rompit has been writing constantly and is getting ready to get into the studio to record its first full-length album. This is exciting for them, as it's been a while since they've released new music.
Wild Rompit has a show coming up Dec. 12 at North Star Bar. They will open for The Apache Relay, who recently opened for Mumford & Sons at the Hollywood Bowl.
"We are really big fans of those guys and psyched about all their success," Ollendorf said.
If you're interested in checking out Wild Rompit's music, you can find the band on Spotify, Bandcamp and iTunes. For updates on their upcoming record, keep checking their website, wildrompit.com.