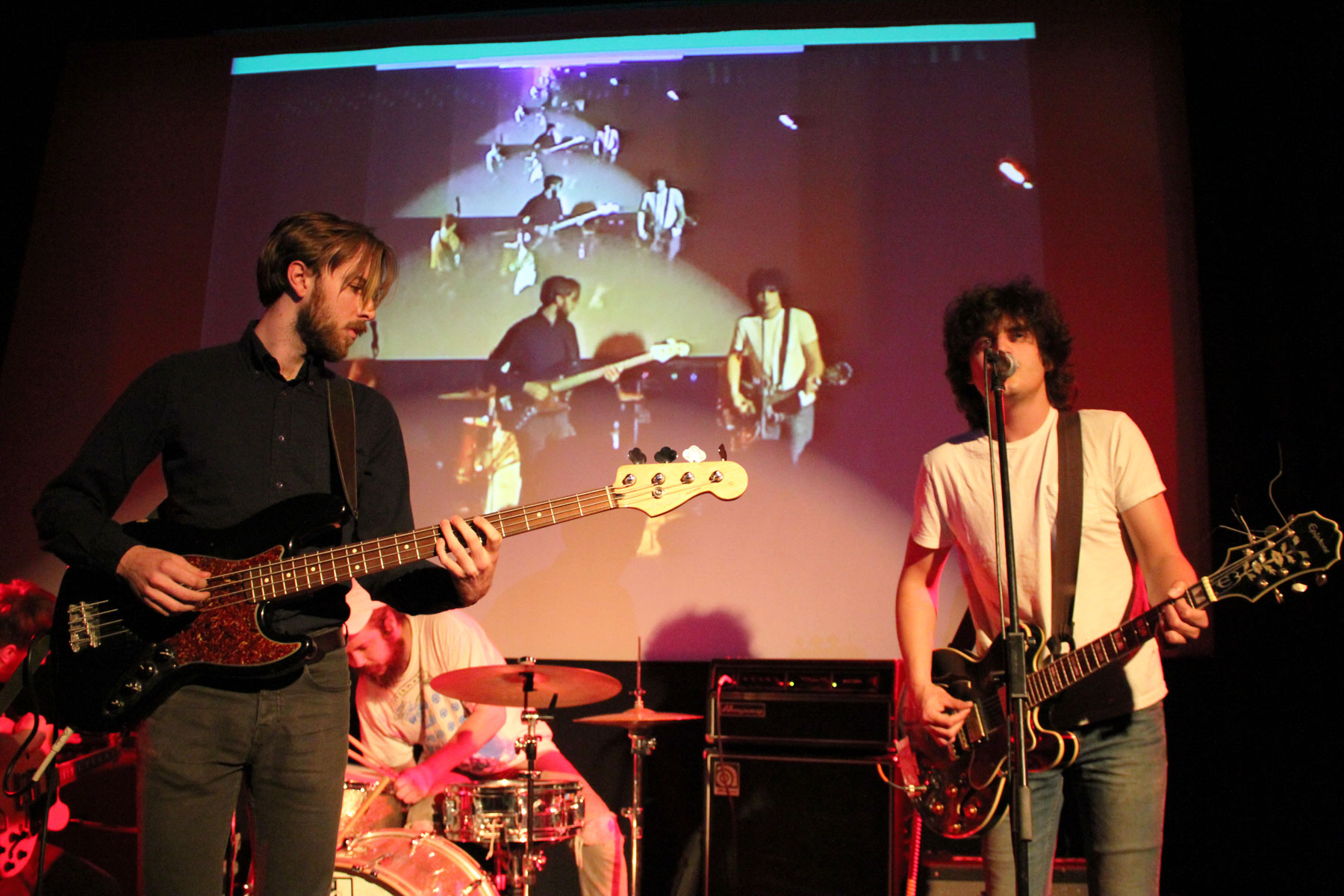 I have yet to come across a Chicago band I didn't like. This inkling was proven to be true once again the night of March 28, the night NE-HI played the treasured PhilaMOCA.
Shortly after Laser Background's set Jason Balla (guitar, vocals), Alex Otake (drums), James Weir (bass) and Michael Wells (guitar, vocals) nonchalantly emerged from the sea of people and made their way to the stage. What was once a fairly intimate crowd seemed to be expanding in size by the minute. The indie quartet, touring in support of their second album "Offers," bid a quick hello and promptly kicked off their set with the lively track "Sisters."
Transitioning into a punchy rendition of "Prove," NE-HI made it clear their level of energy was to be matched. At this point the crowd was warmed up and more than willing to manifest their vitality through headbanging and full body bouncing. Next came "Since I've Been Thinking" off their debut album which might've been the hardest hitting tune of the night. This may just be my opinion but I think the notion could be confirmed by Balla's intense swaying that nearly knocked over his microphone.
Standing to my left at the show was none other than the unsurprisingly intoxicated, regrettably immortal arts and entertainment editor emeritus Shane "plain_shane" O'Connor. After expressing his appreciation for "whatever the sixth track on the album is," I'm sure he was delighted that it turned out to be on the setlist. Guitarist and vocalist Wells was able to mirror how everyone in the venue felt during this performance of "Out of Reach" with vigorous foot stomping on cue with Otake's drumming. Both Balla's and Wells' guitar playing on this number are well-worth mentioning and deserving of praise.
Dubbing the PhilaMOCA space as "the coolest Philly venue [they've] ever played," the Chicago band went on and busted out a few more tracks off the sophomore album such as "Palm of Hand" and the title track "Offers" before ending it with the beloved "Stay Young."
Though my bias in favor of Chicago bands is sometimes unjustifiable, I knew my love for NE-HI and their music was credible when a lady in the crowd labeled her newly purchased "Offers" CD as "the best album of 2016!" Despite the fact that the album was released less than two months ago, I knew she and I as well as many others at the show were vibrating at the same frequency in terms of our feelings toward the band. The combination of NE-HI's modest air and kick-ass live sound has lead to them undoubtedly advancing on my list and should be the reasons to keep them on your radar.