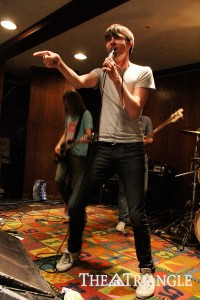 The music industry is building a conglomerate of the synthetic: mannequins whose concerts revolve around putting on a spectacle with bright lights, robotic dance moves and outfits that look like they belong in an abstract art exhibit rather than on a human being. However, Free Energy proved to be as real as it gets after performing April 20 at Philadelphia's First Unitarian Church.
Free Energy is composed of vocalist Paul Sprangers, lead guitarist Scott Wells, guitarist Sheridan Fox, bassist Evan Wells and drummer Nicholas Shuminsky. The band, which was featured on the best new bands of 2010 in Rolling Stone Magazine, formed in Philadelphia in 2008 and has slowly been making a name for itself. Free Energy gained a new level of recognition after appearing on "The Late Show with David Letterman" in 2010.
"I still have other goals that I'm going to do, but music I guess is always a priority. We all have a lot of interests, and I plan on doing a host of other things in addition to music, but … music has always been leading the way," Sprangers said.
The band is best known for their singles "Bang Pop" and "Free Energy," both featured on its debut album, "Stuck on Nothing," which released in 2010 on DFA Records. The song "Light Love" from the debut album was featured in season 2 of the hit TV series "The Vampire Diaries." Free Energy's music has also been featured on the hit series "Beverly Hills 90210" and "Revenge."
The show opened with rock band Wildlife Control followed by pop-rock band Langor. The two openers successfully revved up the crowd as people filtered into the church basement.
Free Energy could not have picked a better band name because if there's one thing those guys are full of, it's energy. They performed a mix of their more familiar songs in addition to new songs from "Love Sign," set to release this fall.
While the show wasn't a big spectacle in terms of props and lights, it was fantastic where it counted: the music. Free Energy started the show with "Free Energy," singing "We're breakin' out this time, makin' out with the wind. And I'm so disconnected, I'm never gonna check back in." This song perfectly reflects their free-spirited persona and shows they are ready to take the music scene by storm.
Next came "Electric Fever," one of the band's newest singles off of its upcoming album. Sprangers kept the crowd charged as he jumped around the stage and belted out lyrics like his life depended on it. Though the crowd was small, it did not lack in spirit.
"I've been enjoying the new songs when people catch on and they're involved with us," Fox said.
The performance during "Dream City" showed how hard Free Energy could rock. Listening to the recorded version of the song, I feel like I should be at the Under the Sea dance, but the live version was much louder and full of life with heavy drumming and guitar riffs.
Surprisingly, the concert began with the basement lights completely on, which was a bit out of tune with a normal concert experience. After a few songs, Sprangers requested the lights be turned off and began to give the crowd glow sticks. That's when the party truly began. Just by watching the guys onstage, it is obvious that they were genuinely having a blast.
Earlier in the evening, Sprangers, who joked that his dream band consists of Mandy Patinkin, Justin Bieber, Miley Cyrus and Jim Belushi, had referenced a ridiculous moment that happened onstage at a previous concert, reflecting his comedic and upbeat nature.
"When I was onstage my pants fell down and someone threw a football on my crotch, and there was a giant air horn sound at that exact same time. It was like an 'America's Funniest Home Videos' [moment]," Sprangers said as we sat upstairs in the church's pews before the concert. I kid you not — we were in the chapel.
Praise should go to any band that works hard to connect with the audience the way Free Energy does. The band was constantly enticing the crowd to sing along and asking for the crowd's input on what to sing next. So often, musicians forget that an artist-fan relationship is a key ingredient in the recipe of success. However, Free Energy has the technique down to a science.
The band performed countless other songs both old and new, including "Hey Tonight," "Bad Stuff," "Hope Child," "Come on Let's Dance" and "Something in Common." Lead guitarist Wells showed off his phenomenal guitar skills as he jumped on the front speakers during his guitar solos, getting as close as possible to the adrenalized audience. Free Energy must have a thing for speakers because not only were they as loud as possible, but Sprangers climbed them and, looked over his fans as he sang.
Free Energy finished the night with a bang with "Bang Pop," singing, "Now she's walkin' downstairs, completely crystalized. Cherry lips and long hair with a pair of sunset eyes."
If you haven't given Free Energy a listen, it is imperative that you treat your ears to a good time. Keep your eyes and ears out for them, as we will definitely be seeing them in the future.