When most people hear the word "opera," they think "opera house." Yet that mistake shouldn't be made in Philadelphia, home of the Academy of Vocal Arts, the only tuition-free vocal school in the United States that regularly provides its students with opportunities to perform before a wider public. This inconspicuous little building located just off Rittenhouse Square opens up its gates to reveal an even more unobtrusive yet pleasantly intimate room that you never would have thought was the opera hall. No props, no curtain, no orchestra and no fancy costumes (at this point you can forget about the smoke machine altogether). Instead, you get just opera.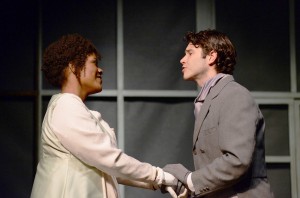 "Eugene Onegin" ran at the Academy Jan. 15-22, and it was a great opportunity to get acquainted with this Russian classic. Adapted from Alexander Pushkin's novel in verse by Peter Ilyich Tchaikovsky and Konstantin Shilovsky, the opera is a window into Russia's divided society in the beginning of the 19th century. It is a story of a young girl from the country, Tatyana (Chloe Moore), tormented by her love for Onegin (Stephen Barchi), an older dandy from St. Petersburg, and his overt rejection after she's confessed her feelings to him. Remarkably, it isn't until Tatyana marries Prince Gremin and starts appearing in high society that Onegin notices her and weeps over turning her down years before.
Maybe the realities of Russia in the 1820s seem hard to relate to for 21st-century college students in cosmopolitan Philadelphia. However, as Tatyana sings in lyric soprano, "I'm here alone. No one understands me, my mind is weak, and I have to die in silence," doesn't it remind us young women of the relatively recent drama and turmoil of high school? It's comforting to see how few things have changed, and quite honestly, it can be hilarious, too.
The Academy performing "Onegin" is the quintessence of pure opera without the "side effects." Instead of an orchestra, there is a one-man piano accompaniment by Ghenady Meirson. Instead of props there are simple wooden chairs, and only the change of lighting indicates when the curtain is supposed to be up or down.
However, despite this crudeness of packaging and awkward translation in the supertitles, the Academy's reputation for equipping students who wish to become opera soloists is being lived up to year in and year out. This time is no different. All of the singers' heart-moving interpretations and technical proficiency make us forget that we are in an operatic school and not a professional company. All of the vocalists, especially Margaret Mezzacappa as Filippyevna and Patrick Guetti as Prince Gremin, made the small-scale "opera house" tremble with applause.