Parc Restaurant, Bistro & Cafe is one of Rittenhouse Square's greatest assets. Parc's prime location at the corner of 18th and Locust streets is an attribute to its success; customers are able to enjoy a fabulous view of Rittenhouse Square while eating their meals. This Stephen Starr restaurant is fashioned after a brasserie in Paris. Inside, the restaurant is designed in a vintage style with lace curtains, a pressed ceiling and old tile floors. Multiple decor elements were directly imported from France to successfully capture the atmosphere and essence of a Parisian cafe.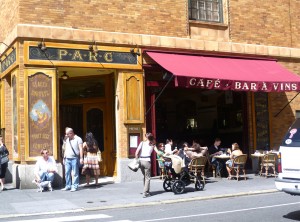 Panoramic windows allow customers to get a 360-degree view of Rittenhouse Square. In addition, when the weather permits it, outdoor seating is available. Although indoor seating goes by reservation, the outdoor dining is first come, first serve. With the arrival of spring, and summer rapidly approaching, dining alfresco is the perfect way to people-watch. There is an awning above the outdoor seating to protect guests from the sun.
Whether you are shopping along Walnut or Chestnut Street or walking to or from work, Parc is a delightful place to stop and grab a bite to eat. Parc is open daily with lengthy hours of service.
The service is efficient, and the wait staff is friendly. A traditional bistro fare is offered, along with classic French food plates and fresh bread made in house. Parc's extensive wine list satisfies everybody's palate with varying price ranges. There is also a selection of cocktails and beers — bottled or draft.
Parc's espressos and cappuccinos are made and served by a barista; try one of these to start your Saturday morning after a stressful week at school or work. Complement that with the Polenta and Eggs Basquaise, a delightful breakfast meal consisting of poached eggs, piperade and smoked paprika saucisson. Another option is the Eggs Norwegian, a smoked salmon with hollandaise sauce. For brunch, the country chicken club sandwich is a must, with avocados, bacon and rosemary aioli.
Parc also has some great dinner options. One can start off by selecting something either from fruits de mer or hors d'oeuvres. The Steak au Poivre, which is a New York strip steak with garlic spinach, is quite delicious, as is the roast chicken.
To finish off any meal, try one of the desserts. Nobody can go wrong with eating the traditional creme brulee, which is the standard French dessert featuring rich custard topped with a hard caramel layer. Two of my favorite desserts include the Moelleux Au Chocolat, which is warm chocolate cake with a melted chocolate center drizzled with raspberry sauce, and the Baba Au Rhum, a sponge cake soaked in a spiced rum syrup with vanilla custard and seasonal berries.
On weekends, especially for brunch and dinner, hordes of hungry guests rush into Parc to eat, quickly occupying all the tables. Therefore, making a reservation would be best if you plan on eating there. Parc adds a particular "je ne sais quoi" to Rittenhouse Square. Within minutes of experiencing the service, cuisine and ambiance of Parc, customers feel like they are transported from Philadelphia to Paris. Personally, Parc is one of my favorite restaurants in Philadelphia. One cannot live in the city without eating there at least once!