"This is our first show of 2012, and we wanted it to be in Philadelphia."
While Pittsburgh and Philadelphia have their sports rivalries, there is nothing but love between Western Pennsylvania's Punchline and Philadelphia. Punchline started a short tour March 3 at the Barbary in support of an EP they released in January. The low-key show didn't have tickets available in advance, but a decent-sized crowd of dedicated fans showed up to watch the pop-rock band perform.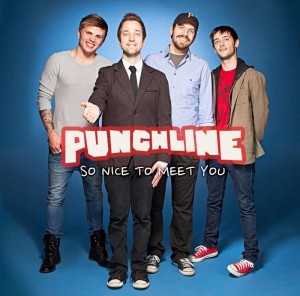 Pittsburgh natives and Fueled By Ramen pop punk sweethearts Punchline left their label in 2008. Since then, they self-released their most recent album – "Delightfully Pleased," out summer of 2010 – on a label of their own creation: Modern Short Stories.
Punchline has been around for nearly 15 years and was part of Fueled By Ramen Records alongside bands like Fall Out Boy, Panic! at the Disco and Paramore. The band clearly never reached a high level of popularity, but they kept going and gained a solid fan base along the way. They are the kind of band that makes music because they love doing so, not because they want money or fame. Other bands may have given up after being under the radar for so long. Instead Punchline just got more ambitious.
In 2008 they parted ways with Fueled by Ramen, forming their own record label, Modern Short Stories. They self-released their sixth full-length album, "Delightfully Pleased," in the summer of 2010. The album is offered on www.punchlinesucks.com by a "pay-what-you-want price" with the note "suggested donation: $5, expected donation: $0, insane donation $1,000." In January they released an EP called "So Nice to Meet You," with a condition attached. Bassist Chris Fafalios pledged to put down his bass if the EP didn't reach No. 1 on iTunes. Rather than a gimmick a bigger band might have pulled, Fafalios' pledge was more of a testament to the confidence he had in his fans and a way to have a bit of fun with a new release. The EP did reach No. 1, proving the power of listeners that care and that the do-it-yourself ethic can work.
They opened their set in Philly with a song from the EP "Everything I Wanted," which got the crowd moving in contrast to the blank stares that sometimes come along with new songs being played live. The band's set was as energetic and humorous as always. Before playing "Very Nervous System" for the first time, Fafalios addressed the audience: "We used to say cool things in between songs, but now we just tune our instruments and talk amongst ourselves. … Believe me, we have said really cool things before." At one point in the set, the kick drum pedal broke, but the bass line continued while someone from the audience rapped until the pedal was fixed.
"How many people here watch television?" they asked before playing "Roller Coaster Smoke," a song about the television show "Lost," which was requested by someone before the show. To close the show, they were joined by the lead singer of opening band Bright and Early for "Universe," the band's favorite track from "So Nice to Meet You." The set was short due to the venue's rules but was still worth more than the $10 admission. You don't stay a band for 15 years without learning how to play a more-than-satisfying set.