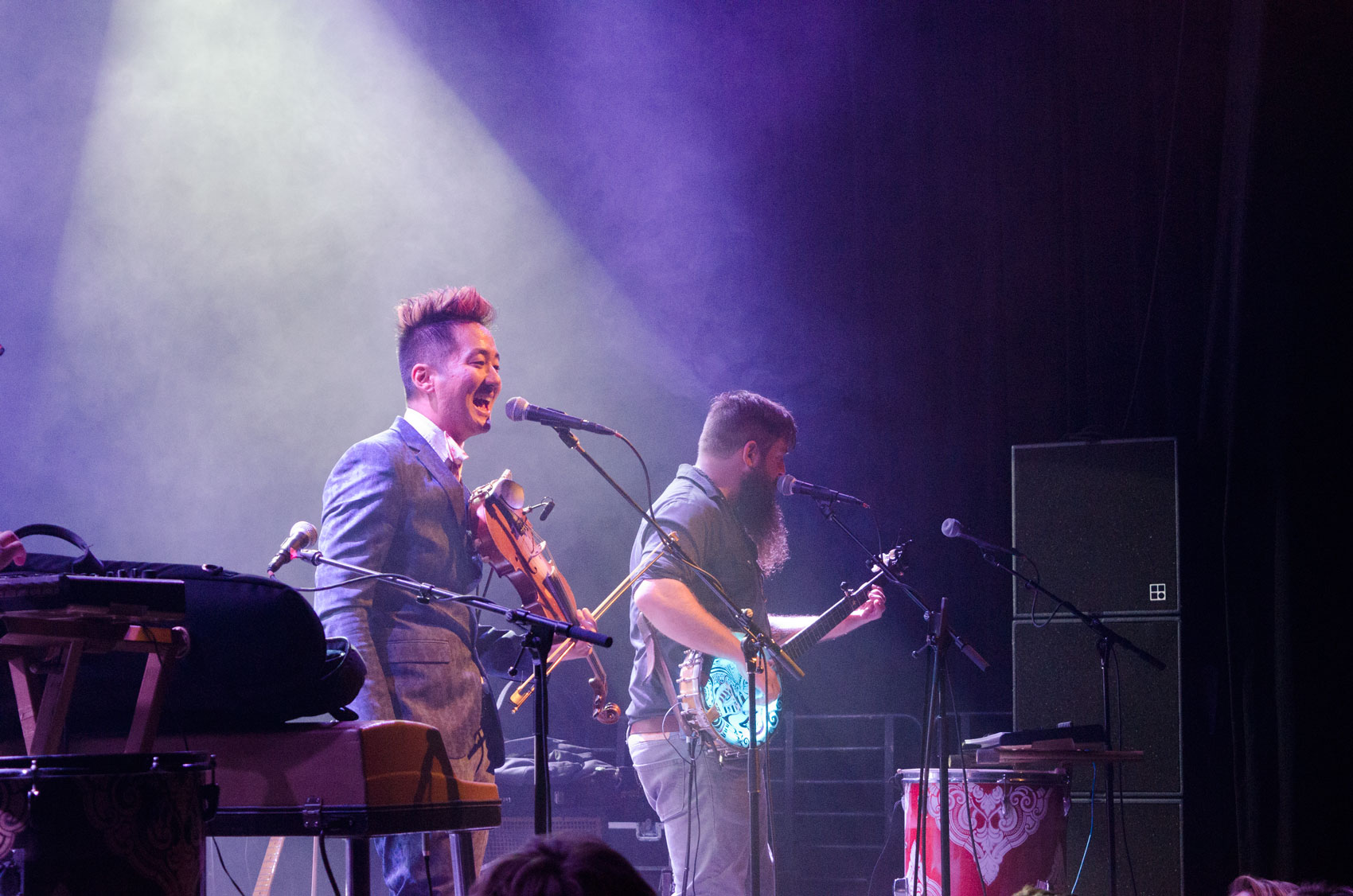 Breaking through once again with an easily distinguishable yet hard to describe musical style, Kishi Bashi fleshed out the intricate sounds of both well-known and more recent songs for a moderate sized crowd Oct. 4 at Union Transfer in downtown Philly.
Currently one of Philadelphia's most stirring music venues, UT hosted the presentation for just over a thousand spectators. What the venue may not boast in size or imposingness it more than makes up for in sound quality and intimacy between audience and band members.
"Sonderlust" is Kaoru Ishibashi's latest full length release under his solo-project pseudonym Kishi Bashi. The album is the third installment of his young yet vibrant catalogue belonging to a style best described as a combination of chamber pop, indie and folk rock.
Tuesday's opening act was Virginia-based guitar act Twain, who took the stage to perform a number of very human and emotional interpretations characterized by personal lyricism and a coarse yet warm guitar style. He was followed by the main act's musicians, who arrived onto a stage arranged with a drum set, cello, guitars, bass, piano, synthesiser, violin and even a banjo.
Kishi Bashi kicked off the event by playing a number of songs from "Sonderlust" with the liveliness of "Statues in a Gallery" and "Hey Big Star," following with songs from  his previous albums "151a" and "Lighght." Kishi Bashi and banjo player Mike Savino proceeded to show off their expertise in a standoff between violin and banjo, finally transitioning from an extended interlude to one of Kishi Bashi's best-known songs, "Bright Whites."
"Coming from an online project called 'The Dictionary of Obscure Sorrows,' 'Sonder' is a  word to describe the feeling of realization that every person around you is living a life as deep and complex as your own. As for 'lust,' well, you already know what lust means," Kishi Bashi said laughingly as he explained how he came to choose the title for his new album.
As all other band members left the stage, Bashi and cellist Nick Takenobu Ogawa remained on stage for a solo performance of  "I Am the Antichrist to You." With Ogawa's cello providing a melancholic backing track, Bashi recorded and layered short and bittersweet loops one over the other until the piece culminated in a grandeur of resplendent sound and melody.
The concert concluded with the interpretation of some of Bashi's most well known and upbeat pieces. Having left the stage and dismissed the audience, the band then returned to interpret three final songs. With acoustic arrangements and singing in unison, the five performers ended the night with "Honeybody," "Q&A" and "Manchester." Bashi also addressed the spectators before finishing the concert, stressing the importance of their participation in the upcoming presidential election.
Overall, Kishi Bashi's presentation was one brimming with fervor, passion and emotion. Much like the vibrant personality that has led this solo project to where it is today, the band did not fail to capture the spirit of musicality, love and brotherhood that is so characteristic of Bashi's music.