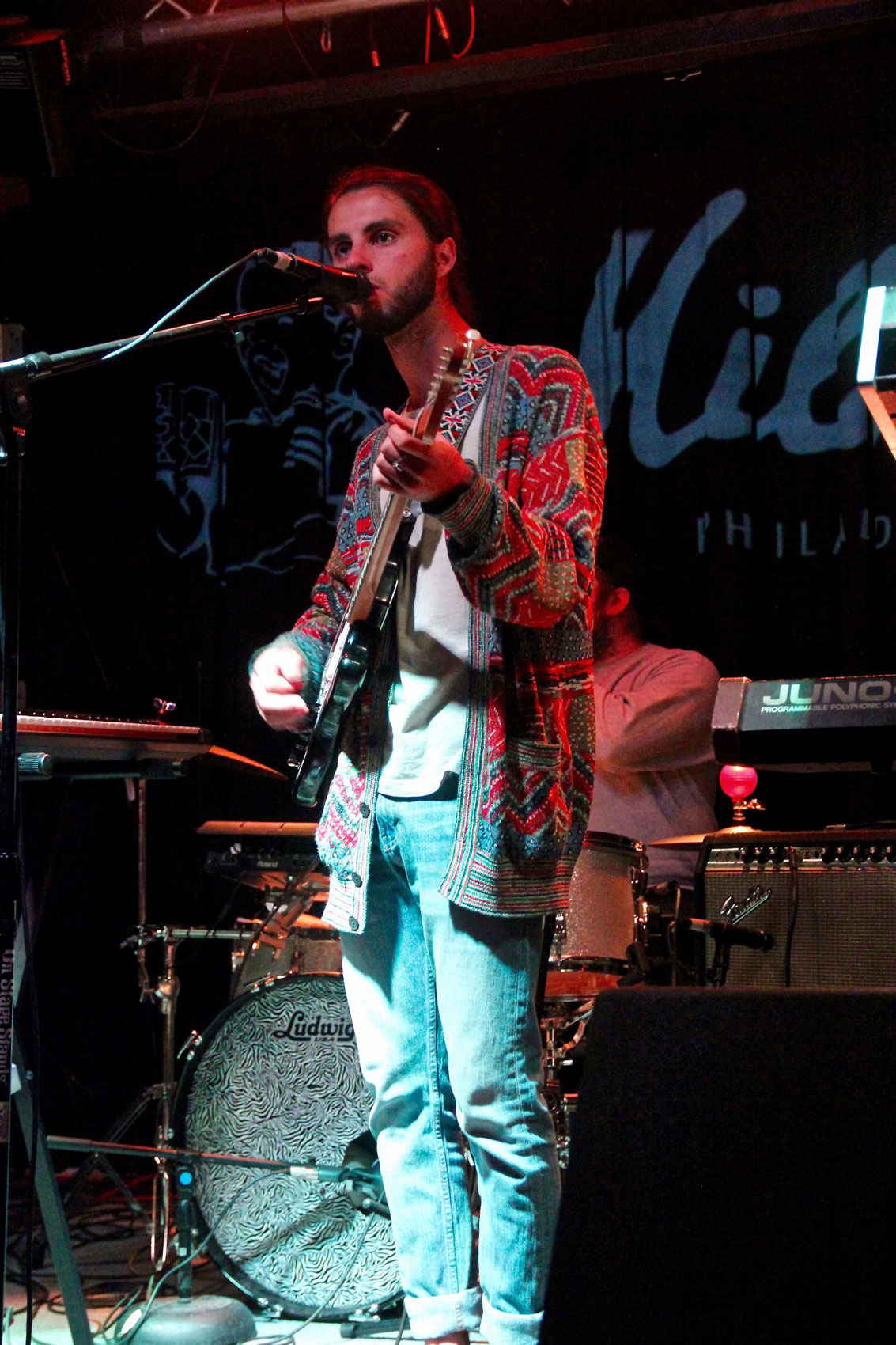 After missing their show in December, I was thrilled to hear that Old Man Canyon was returning to Philadelphia, touring for their new album "Delirium." Frontman and songwriter Jett Pace experiments with psychedelic sounds on the dreamy pop-rock album producing tunes similar to those of Tame Impala and Portugal The Man. While listeners can hear the inspiration from other musical groups, long-time fans of Old Man Canyon will have no difficulty seeing that the band has grown while maintaining its origin.
While the tour jumps between the states and in and out of Canada, Old Man Canyon made their appearance at MilkBoy Philly May 24 with Brooklyn band Monogold. When I arrived at the venue I was shocked to see the amount of people that had showed up — there were somewhere between eight to ten bodies at most. It was pretty awkward for a show due to the fact that the large floor in front of the stage was completely empty and everyone was lollygagging at the bar. Very few people got up from the bar when the opening act made their way to the stage but I did see some newcomers strolling in. I can honestly say I had never heard of Monogold before, but I'm glad I was introduced that night. The band's sound and appearance definitely contrast one another since they look like a garage punk band but sound like sheer, groovy goodness. The trio is made up of lead singer and guitarist Keith Kelly, bassist Michael Falotico and drummer Jared Apuzzo. After their set I got the chance to speak to Kelly who was extremely friendly and even gave me some free merch (a "This Bloom" magnet and a band sticker). For those who haven't listened to Monogold before, their music is easy, breezy and beautiful.
As I sat at the bar and waited for Old Man Canyon to start their set, I noticed a nonchalant Jett Pace sitting a few seats over. He seemed very relaxed and looked effortlessly cool sporting a colorful sweater, Levi's and some sweet newbies on his feet. Pace and I gabbed like we were long time friends, proving himself to be just as affable as he comes off. Though I didn't want the conversation to end, I was excited that he had to say goodbye to head up on stage.
At this point in the night there were about 17 people at the venue, both bands included. Though I would have loved to see a crowd's reaction to Pace's new sound, I genuinely enjoyed the intimacy of the show. Most of the tracks on "Delirium" are hard to not sway back and forth to and the excess amount of space allowed me to dance to my full potential when Old Man Canyon performed "Always Love" and "Hollow Tree." I expected to hear songs strictly off the new album so I was pleasantly surprised when I heard tunes from "Phantoms & Friends," an album close to my heart. The band didn't seem to miss a beat while switching between the different albums, playing songs like "Learn to Forget," "Phantoms and Friends" and "Sugar City." They ended the night with one of my personal favorites of theirs, "Wiser." The highlight of the night was when I mustered up the courage and requested they played "The Road" after being egged on to do so. Pace replied with a cold hard 'no' which I had to laugh off in front of the other 16 people in the room.
After the show, Pace explained he had to reject my request as the particular track I requested was one he had yet to perform. All in all, Old Man Canyon put on a flawless show and anyone who would say otherwise is delirious.