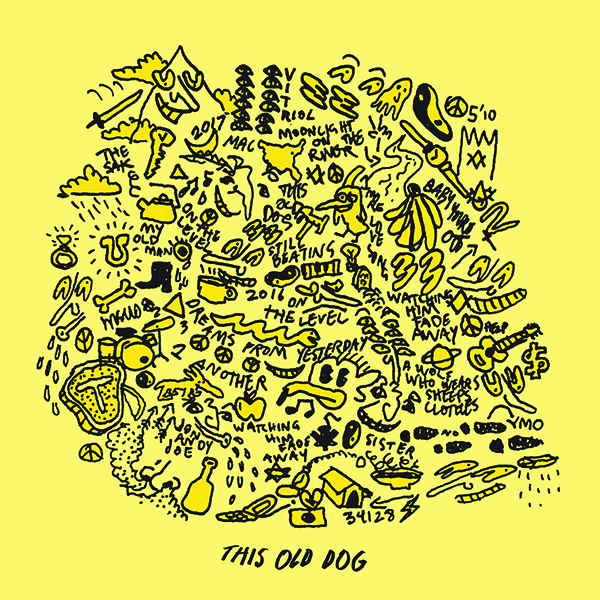 I can't quite put my finger on how Mac DeMarco became such a beloved staple of indie rock. He never quite grabbed me with his music (not yet, at least), but I can't deny he's got a certain charm. He's probably the only artist who I've watched more interviews of than actual videos of his performances. He's likely the goofiest dude in the whole world.
DeMarco's latest album, "This Old Dog," was released May 5. Although I'm admittedly not the biggest fan of his music, I was intrigued to hear what he was up to these days.
I had a feeling "This Old Dog" would be different by the cover art alone; for the first time in his five-album discography, the artwork did not feature a photo of himself. The opening number, "My Old Man," boasted a stark difference from everything else I've heard from his discography. It would appear he finally retired the chorus pedal — ol' reliable — for more acoustic instruments. The song featured acoustic guitar over some 808s, which struck me as an odd combination of sounds.
While "My Old Man" doesn't quite capture, DeMarco nails this new mood on other songs such as "This Old Dog" and "Baby You're Out." In a lot of ways, these songs reminded me of early Pink Floyd, like some of the deeper cuts off "Atom Heart Mother" and "Meddle." It's a really interesting direction that I would've never expected from Mac DeMarco, who had such a defined sound.
On the fourth track, "For the First Time," DeMarco throws in another twist: electric piano, synths and groovy bass lines. The song is a lazy, dreamy, almost sappy love song. If nothing else, this album certainly proves that Mac DeMarco is capable of writing other styles of music.
The song that sounds the closest to his older material is "One Another" — the verses make use of acoustic instruments but in the chorus, the old electric guitar comes back in. I guess he couldn't resist adding in a little taste of classic Mac.
"Still Beating" is a lovely tune — which should mean a lot coming from someone who isn't necessarily a Mac DeMarco fan. "Honey, I cry too,/ You better believe it," he sings matter-of-factly in the chorus, giving the laid-back, summery song some edge and emotional content.
Some songs were a little more lackluster than others; "Dreams from Yesterday" and "One More Love Song" are tracks I will probably not be returning to. The 808 drums and slow-moving synth pads in "Dreams from Yesterday" push the song past "chill" and more towards straight-up boring.
However, the dull moments are outweighed by the stronger songs. "A Wolf Who Wears Sheeps Clothes" introduces some harmonica action and folk tendencies, reminiscent of some later Tom Petty (see: "Wildflowers"), despite DeMarco's use of electronic drums.
The album is pretty humble in terms of songwriting, but around the 5-minute mark of the 12th track, "Moonlight On The River," things get pretty wild. Strange samples and delay pedals come into play and the folk rock takes a turn for the psychadelic. It's an amazing outro that sounds like it was lifted straight from Tame Impala's "Lonerism."
One thing is for sure about "This Old Dog:" it's vibey as hell. "On the Level" is dripping with vibes, reminding me of some sappy, synthy love ballads from the late '70s and '80s. Mac DeMarco gives us something new on "This Old Dog," and he pulls it off pretty well. The album has some really solid songwriting and even better production.