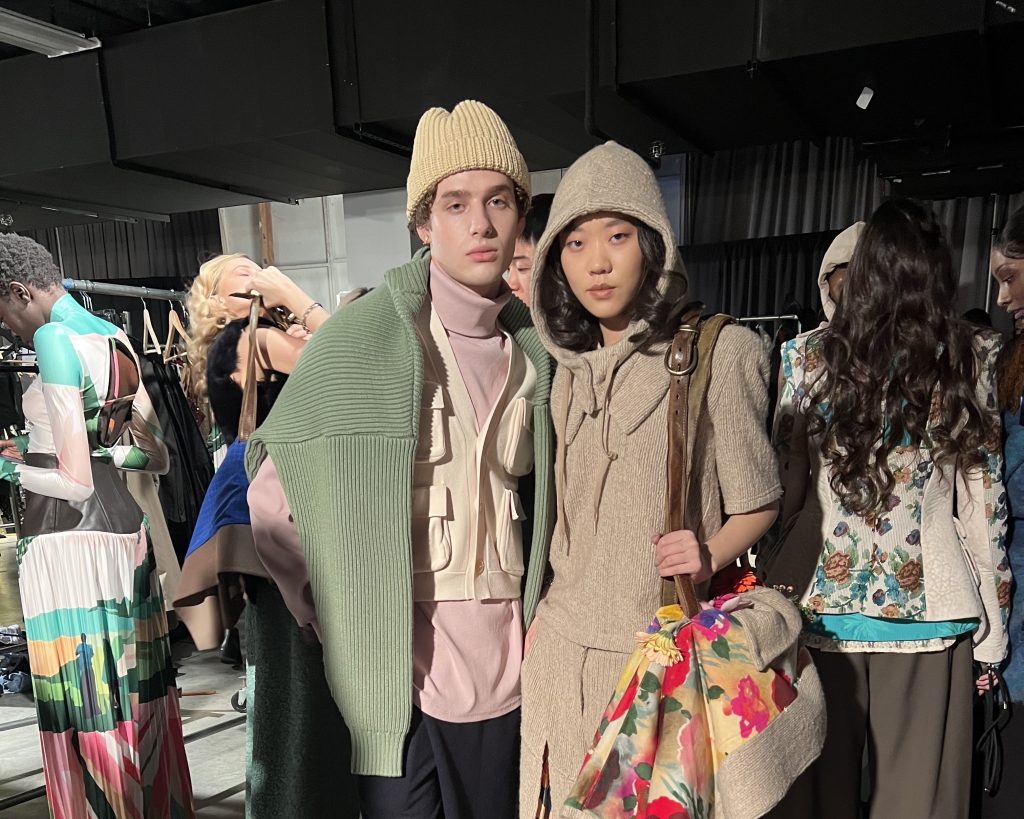 For fashionistas, February is all about New York Fashion Week. For models, this make-it or break-it season means hitching up in the city, waiting for callbacks, and networking from sunrise to sunset.
During the day, Sharon Shi is a student at Drexel University studying Finance, Accounting and Business Analytics, but her off-days consist of modeling for Strut Model NYC.
Shi's modeling career began upon graduating high school after submitting photos online to her mother-agent, a local agent who prepares and places aspiring models into other agencies.
Last summer, Shi attended a convention in New York where she met her current agent, Strut, after being recognized. Smaller agencies send many people to the same photographer, presenting their specific style. Since Shi was featured on the photographer's social media, they knew her before she arrived. The next week, Strut Model NYC requested seeing her in their office. Hours after getting her measurements and photos taken, Strut wanted to sign her.
"I waited a while before I signed the contract. My situation was somewhat more complicated because I came to this big convention," she said.
Shi received various callbacks and wanted to keep her options open for agencies like Wilmina, Ford, Next and Elite, but eventually decided to sign with Strut.
For newcomers, it is beneficial to develop within a boutique agency rather than getting lost in larger agencies. Previously a mother-agent, Strut embraced its industry growth through signing talented models and hiring qualified bookers.
Sharon recently shared her experience as a modeling insider with The Triangle to help clear up some common misconceptions about the industry.
Misconception #1: The unique catwalk
Bookings mainly depend on the model's look and walk but this is not set in stone. People popularize professional models on social media for their unique walk but this is not their choice. Castings require the industry standard walk and designers decide if models use their personal walks. "Most of the time when you see those instagram reels, that wasn't a different walk. They might use a personal 'oomph' but the designer wanted that as well," Shi mentioned.
Misconception #2: The unglamorous living conditions
Influencers may be seen in a mansion but they actually live with 50 roommates. If a campaign requires travel, reimbursement is often provided. But for castings, models find housing on their own. For housing and travel to be included, the agency must communicate before booking the model. Some high-profile agencies have model apartments filled with bunk beds. Since Shi works for a boutique agency, she stayed in an Airbnb with other models.
Daily activities vary; some days consist of casting and shooting while other days are empty. Bookings aren't automatically confirmed, therefore attending multiple castings is crucial. This can be tiring after traveling around the city for a week straight and booking only a few shows. Also, castings are spontaneous. "You can wake up the day-of and get a phone call from your agent saying 'you have a cast in two hours. Can you make it?'"
Each agency has show packages where they send models to different casting directors. Request castings occur when the director requests to see the model in person after examining their portfolio. Cattle castings are open to anyone. The line can be hours long for limited walking opportunities. These are competitive and recognition is determinant.
Casting attire typically consists of all black, such as black skinny jeans, a black tank top and 4-inch black heels.
Misconception #3: Stipend per show
Even high-end models may only earn a few hundred dollars per day. The key to making thousands is through modeling for corporations and e-commerce ad campaigns.
Oftentimes, models are compensated in gifts. Through casting for designer Richie Rich, who featured Paris Hilton, Naomi Campbell and Kim Kardashian, Shi's compensation was Sketchers sneakers. Rich provided the outfit while Shi chose which shoes to walk in.
Moreover, Shi received $200 from modeling for two of Global Fashion Collective's shows. Although pleased the brand was featured on the prestigious NYFW calendar, Shi was disappointed by the pay.
Prominent figures create a unique atmosphere when attending shows. "As soon as important people walk in, the designer approaches them and attempts to sell them their pieces."
Shi has walked for A. Potts alongside Miss USA, while celebrities such as "Euphoria's" Jacob Elordi, "The Summer I Turned Pretty's" Christopher Briney and musician Machine Gun Kelly have been seen wearing the brand.
Misconception #4: Models pay for their portfolio's photoshoots and photo strips
These are professional photos typically by well-known photographers. They are used for marketing purposes, such as having a composite card for castings. Shi reiterated "every single model has definitely paid for their own photos, even Gigi Hadid."
"The fashion industry is a lot smaller than people think. A lot of people use the same photographers," Shi mentioned.
Misconception #5: Top agencies construct their models
International modeling agency IMG Models consists of extensive analysis. "From the moment you walk in their door, they know which brands you're specialized in." Models are categorized by their looks for specific brands. For example, if Gucci requests a specific model, IMG can refuse because they are only exclusive to Chanel.
Misconception #6: Models can be dropped or signed at any given time.
The brand can drop models as soon as they don't earn money for the brand. Industry standard contracts are typically three years, but agencies can break them. Contrarily, agencies can sue a contributing model for breaking the contract. Mutual agreements only form if the model is not profiting the brand.
Shi was published in Vogue for A. Potts due to the PR team's significant coverage. Every year, the designer, Aaron Potts, and his lookbook models are featured in Vogue.
Shi connected with Potts last year and they kept in touch. He wanted to shoot with her so he made it happen. "I'd say Aaron is one of the nicest designers I've ever met in my entire life and one of the humblest people ever. If I could take you to meet a single designer, it'd be Aaron."