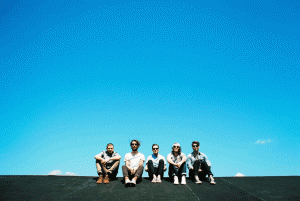 On a rainy summer day, I found myself walking to a bar placed in an empty lot. Ortlieb's Lounge, a bar no more than 40 feet wide, was full of people. A small sign hung on the wall with big red letters, "Capacity 55." Past the bar were big doors, and through those big doors was the smallest stage I have ever seen. The concert venue, smaller than my kitchen, filled up June 27 to see a fantastic modern-day Beach Boys, PALMAS (formerly known as Locals) carved out a reputation for themselves at Ortlieb's Lounge.
The show started with a New Jersey band, Betona. Using a loop machine, the three-piece indie-folk band strung out moody melodies. Interacting with the audience, Betona made humorous, playful comments that ultimately won me over. At one point, one of the members from PALMAS came up to play a song with them. The acoustic folk sounds swept the air and not a soul in that room could deny how talented Betona was. Before the band left the stage, the crowd applauded as Betona shared that this was their first show. Absolutely incredible. I couldn't find any released music from the band, but their style, poise and smiles pieced together an intimate show to warm up the venue. Betona really impressed me.
The next artist, Little Strike, was a bit bizarre. Little Strike, a one-person electronic artist, played some very interesting sounds. All in all, she seemed very talented. Her vocals overlapped with the percussion and soft sounds perfectly, but the style of her music wasn't best to be enjoyed live. I would have much rather preferred to bundle up on a cold day, close my eyes and listen to her distinct style. Little Strike had a very friendly personality, but her performance just didn't win me over like Betona's did.
Once the openers had finished, the small venue felt like a party on Powelton Avenue. Packed from wall-to-wall, fans stood eagerly with a beer in hand to hear PALMAS. Without much interaction with the crowd, the band comfortably began playing their brand of indie-surfer rock music. A modern-day Beach Boys, PALMAS used indie sounds and stellar vocals to really jam out. The opening acts were relatively mellow, but by the time that PALMAS came out everyone in the crowd was ready to dance around and twist and shout. To describe the style of the band, I'd recommend imagining the surfer-rock style of the Beach Boys with Vampire Weekend guitar riffs and powerful male vocals. It was really unique stuff.
Their songs "San Francisco Bay" and "Ride the Wave" can be found on YouTube and SoundCloud respectively, but unfortunately this band has no officially released music. There wasn't a single moment of the show I disliked, but my favorite part had to be the song "Without You." The vocals paired perfectly with the percussion and guitar riffs with a catchy melody and remarkable choruses. Each song seamlessly played off of the energy from the previous song, and by the end of the set, the tiny venue was jam-packed with energy. This was not something I would expect from a relatively unknown band.
PALMAS claimed they weren't prepared for an encore, but after several "one more song" chants, the band played halfway through a cover of "Girls Just Wanna Have Fun" by Cyndi Lauper before realizing they genuinely weren't prepared for an encore. It was still a very animated set and had me smiling the whole way through.
This show was a pleasure to see. PALMAS will be releasing two singles July 17 and a debut EP in August. If you have the chance, check out their music. It's absolutely perfect for the summer. I genuinely believe that PALMAS will be playing a venue with a capacity larger than 55 the next time I see them.
Editor's note: PALMAS's first single 'Stay Away' is now currently streaming on Spotify. You can listen to it here spoti.fi/1Dc2i0e. The music video for 'Stay Away' is currently on Youtube http://bit.ly/1K9qwgI