I'm going to go out on a limb here and state an opinion that may be entirely too controversial for an upstanding publication like The Triangle to publish: I think that it has been really hot lately. And while it may just be me, I also find it rather unpleasant to be outside in the summer for extended periods of time.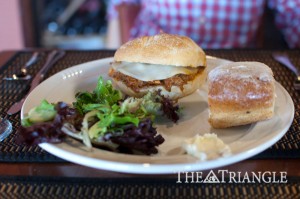 Dear reader, because I care about you in a way that only a parent, or perhaps a strange uncle, can care about a child, I have a solution to your warmth-related woes. Oftentimes buying lunch from a truck can be a near-death experience; the time it takes to receive a sandwich is enough to reduce even the most resilient individual to a sad puddle. Instead of standing outside for arduous minutes, I would like to humbly suggest dining at Drexel's fine (and air-conditioned!) Academic Bistro for lunch.
Managed by your fellow Drexel hospitality management and culinary arts majors on the sixth floor of the Paul Peck Problem Solving and Research Center, the Bistro operates as a luncheon buffet during the summer term. Featuring locally sourced ingredients, the buffet offers a rotating assortment of meals, including a daily vegetarian option and desserts, for your palatal pleasure. In addition, a light lunch fare like sandwiches, panini and salads can also be ordered a la carte.
The Bistro itself is a pleasant space, though it still decidedly feels like a room on campus. Curiously, I noticed something was conspicuously absent during my visit — students. While the restaurant was busy with older people, it seemed like very few Drexel students were dining there. It made me feel slightly out of place, but it could just have been  my particular visit.
On the day that I went, the buffet featured various comfort foods: pulled pork and barbecued chicken sandwiches, collard greens, bread rolls and quinoa. There was also a mixed green salad and a good variety of desserts available. Shortly after being seated, I proceeded to fill my plate in a display of sheer gluttony thinly justified as "getting my money's worth" and "sampling everything for the review."
While I felt slightly uncertain about the prospect of a buffet put on by Drexel students, my fear was quickly assuaged — the food was delicious. The pulled pork sandwich was warm and flavorful, with the tender pork in perfect proportion to the tangy barbecue sauce. The rolls featured herb butter, a very nice touch that served to make them distinct. The greens in the salad were fresh and tasty,. the balsamic vinaigrette was also very good. I will admit that I was not particularly fond of the quinoa, but with the assortment of options available, it did not particularly bother me. The food was generally delectable.
After the fantastic meal I proceeded to stroll over to the dessert table. From the generous number of choices available, I selected a slice of apple pie, a brownie and a cookie (somewhere, a dietary physician was weeping). The desserts were enjoyable; while not of the caliber of something made to order, they were about as good as buffet desserts can be.
What's more is that the Academic Bistro is very reasonably priced. The buffet costs exactly $10, which, for the amount and quality of food I had, was a bargain. Their a-la-carte menu also seemed very fair, with prices noticeably lower than the decidedly overpriced Creese Cafe. There was also an attached coffee shop that looked very appealing and seemed like an excellent alternative to going to one of the many Starbucks in the immediate area.
Ultimately, when compared to the cost of eating from a food truck, Drexel's Academic Bistro is a great value. While some may prefer the quaint charm of eating on a bench in 95-degree heat, the atmosphere and quality present at the Bistro makes it worthwhile, particularly as a place to grab lunch or some coffee with a friend while staying on campus.