Zombies took over the Pennsylvania Convention Center from May 30 to June 2. Men and women in uniform marched furiously toward the intersection of11th and Arch streets in response. The scene was a blur of body paint, wings and shiny spandex. Alter-ego superheroes, celebrities, and Marvel and DC comics artists mingled to create the Philadelphia Comic Con Wizard World Convention.
The convention hits the city once a year for four consecutive days. Visiting the convention shortly after its kickoff, I wore an old SpongeBob T-shirt and went to check out the event. Because Wizard World did not offer a student discount for the convention, I hoped I would not be disappointed for having to slap down $35 at the ticket counter.
Inside, the convention center was split into rows of booths and stages. Behind a velvet rope maze stood Lou Ferrigno, the former Incredible Hulk, signing autographs in a Phillies Jersey. Actor Andrew McCarthy was there too, smiling for fans along with James Marsters, Charisma Carpenter and Norman Reedus, who were attending the "Charmed," "Buffyfest!" and "Walking Dead" panels, respectively.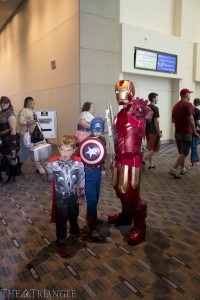 Eyeing Henry Winkler, the Fonz, my gaze was broken by a young man's biceps. "Which one should I chose?" this young man asked as he made a beeline for the 20-foot wall of T-shirts, printed with characters such as Superwoman, Wolverine, Juggernaut and the Hulk. He considered four Wolverine shirts, each with unique Marvel interpretation, while I wondered how he managed to stuff his muscles into a T-shirt to begin with.
In T-shirts or full costume, old and young attendees wove through the maze of exhibitors, retailers and artists. Men dressed as the feminine Storm, Emma Frost and Mystique examined the work of artist Christopher Ott as four Ghostbusters tried to outpose a crew dressed as the Power Rangers. Batman and Robin were also in the crowd, battling The Joker and Harley Quinn. While many fairies and princesses fluttered by, one little girl dressed as Aquaman, touting a trident instead of a wand.
Everyone seemed to be living in another world. "Star Wars" fans attended onstage lightsaber lessons, while others crowded a glass case filled with wands next to a Harry Potter cardboard cutout. While some came to speak with celebrities, others watched outgoing attendees draw up new characters on the spot and browsed the many T-shirt stands.
For an exciting four days, the Philadelphia Comic Con Wizard World Convention gave attendees an opportunity to indulge in their shared imaginations. Devoted comics fans will surely reconvene during next year's convention.