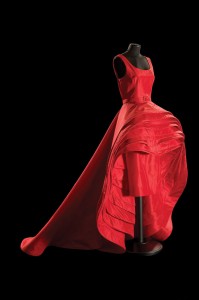 The name Roberto Capucci probably doesn't ring a bell, even if you are fashionably inclined, but thanks to the retrospective at the Philadelphia Museum of Art, he's soon to be a household name. Capucci's work goes beyond dressmaking and will enthrall not only design majors, but also architects, engineers and fashionistas. His clothes are a feat of patternmaking and planning, the likes of which most people have never seen.
Italian born and bred, Capucci began his career in the early 1950s as the Italian fashion scene was just beginning to come together. Paris had been holding shows for years, and entrepreneurs in Italy decided they would assemble designers from all the major cities for one showcase. A last minute addition, 19-year-old Capucci was hailed as a "boy wonder" for his sculptural pieces inspired by nature. All five pieces he showed that day were sold immediately.
"Roberto Capucci: Art into Fashion" starts with the early pieces where he begins an exploration of themes and ideas that follow through his entire career. Standout pieces include the cream gown inspired by the callas lily, whose cape-like structure defies our expectations of gravity, and a red gown with nine cutaway skirts whose inspiration was drawn from the effect of a stone being skipped in water. Capucci's garments from the '60s begin the transition that ultimately ends in pieces entirely sculptural, removed from the idea of a woman wearing them. Fashion fans will recognize in these pieces why he was called the "Italian Balenciaga." It's impossible to do any garment of Capucci's justice with only words because they go beyond what we expect and are used to from fashion design.
As the exhibit winds around the corner, the pieces transition into Capucci's forte: clothing as sculptural art pieces. His pleated dresses utilize fabric, thin and crisp like folded paper, which create the most unusual shapes. The color schemes evoke elements of nature, like fire and smoke, just as his early pieces did. These pieces are furthered by his sketches, which are hanging on the walls around them. With only the sketches to go by, you'd never imagine that the amazing dresses in front of you would come from them. The color combinations are both startling and natural. Gowns have sharp edges, squares and three-dimensional forms attached.
The final looks of the exhibit are masterpieces created with all the processes and concepts of his career. These gowns are magnificent in their grandeur and truly elevate the art form. Even those with experience in sewing and patternmaking find the structural integrity of these forms astounding.
The exhibit is impossibly large and is so overwhelming that it requires at least two visits to fully absorb all there is to see. Unfortunately no photography or sketching is allowed, which is frustrating because there are so many ideas presented for every level of designer. The gift shop sells a catalog of the exhibit, which is well worth the $30 to be able to refer back to all the structures and color palettes. The exhibit runs until June 5, so take advantage of it while it lasts. This is the first survey of Capucci's work in the United States and it is not to be missed. Tickets for students are $16 and more information can be found at philamuseum.org.