Last week marked the end of the season for the Philadelphia Shakespeare Theatre. The company's take on the comedy "Much Ado About Nothing" played for eight weeks, and as the season comes to a close, it leaves the audience with remembrance of great laughter and excitement for the next performances.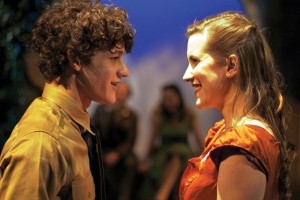 This purely comedic Shakespeare play tells the story of two pairs of lovers: Beatrice and Benedick, leading a "merry war," and Claudio and Hero, young victims of love at first sight. The latter couple tries to play matchmaker for Beatrice and Benedick, and through hysterical ways of deception they succeed at joining the quick-witted enemies. Claudio and Hero themselves fall prey to the deceitful schemes of Don John that threaten their innocent young love. Shakespeare plays with the theme of deception and false identities to create a hilarious comedy about love and gender differences.
In Philadelphia's adaptation of the play, Director Domenick Scudera focused on the characters' personalized flairs to express assumptions about gender and male-female relations. By casting Eleni Delopoulos as Beatrice and Chance Dean as Benedick, he created a very strong emphasis on both the characters' word wars and their delightfully witty disdain for romantic attachment. Lauren Sowa and Isaiah Ellis' respective portrayals of Hero and Claudio formed a stark contrast to Beatrice and Benedick by presenting a love that is innocent and foolish but also radical. Scudera's direction accentuated the innocence and experience of love, and also how all people can easily be played when it comes to matters of the heart.
The presence of music in the performance was incorporated as comic relief, especially through Patrick Lamborn's performance on upright bass accompanying the slapstick moments in the play and accentuating the jokes of Beatrice and Benedick, making the audience react in a similar way to the canned laughter used in sitcoms. The performance also opened and closed with a song, which, although a common practice in Shakespearean comedies, was accomplished somewhat awkwardly.
The small stage and an intimate audience arrangement allowed the actors to interact with the viewers in a more direct way. For instance, when Delopoulos shared a seat in the audience with an elementary school child, all the spectators exploded into heartfelt laughter. The small stage also provided a unique experience during the slapstick moments and physical humor in the play, and Scudera definitely recognized the advantage of this.
This brilliantly adapted comedy ran alongside "Othello," together forming what many patrons called one of the most successful seasons of The Philadelphia Shakespeare Theatre. The theater's genius adaptation is something to be proud of.