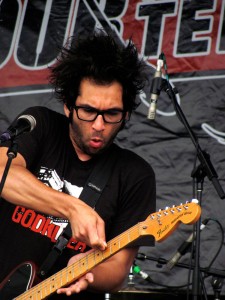 With a promising fifth studio album on the way, what else is a successful pop-punk band to do with their free time? Celebrate their victories, of course.
Starting Aug. 19 in Los Angeles, Calif., Motion City Soundtrack embarked on a "4 Albums. 2 Nights. 7 Cities." tour to exhaust their entire discography thus far. Their highly anticipated album, which has yet to be titled, will be released in spring 2012. Right after hitting up seven lucky cities, the band will launch straight into a shared headlining "People and Things" tour with Jack's Mannequin, set to start in Allentown Oct. 7 at the Crocodile Rock Cafe.
Motion City Soundtrack took to the Theatre of Living Arts Sept. 16 and 18 to serenade fans with live performances of "I Am The Movie" (2002), "Commit This To Memory" (2005), "Even If it Kills Me" (2007) and their most recent, "My Dinosaur Life" (2010).
As this concept certainly isn't a new one, I feel compelled to mention that the overall concept as I experienced it Sunday night did not come across in any way as forced or novel. After a three-night affair in Chicago back in 2009, Motion City desired an expansion of the event.
In the past decade, the boys slid through consecutive albums like high school jocks running laps around the "nerd herd" in gym class. Everything about these shows was pure fun, and the band perfectly matched the audience's enthusiasm.
The TLA was a great choice of venue. Authentic and intimate, it held a solid wall of dancing fans pushed against the stage, and dozens more comfortably rocking out all along the bar area, through to the merchandise table in the back.
Running just a tad behind schedule, opening act Jarrod Gorbel of The Honorary Title started his set five minutes before it was slated to end, accompanied by timid yet talented friend Dre Babinski performing violin and backup vocals. Obviously experienced at gorgeously heavy compositions, Gorbel's voice and two-man orchestration exhibited great resonance. Providing a strong melody to music that easily could have felt out of place, Gorbel transformed the typical "sad song" into a touchingly serene yet simultaneously powerful experience. The two entertained listeners with a couple of songs from The Honorary Title's catalogue, which included "Stay Away," all the while captivating us with attractively shy harmonies.
When Motion City Soundtrack finally took the stage, the audience was engaged with modesty and minimal effort. Addressing his fans with a quick "Hello, friends," frontman Justin Pierre wasted no time in initiating "Even If it Kills Me." The band's third studio album, which was hailed by the New York Times as "… one long sugar rush," and SPIN as a "… set of near-perfect pop," made for an excellent half-hour set.
The first half of Sunday's show felt more like a teaser, though, paling in comparison to the excitement of experiencing the group's latest record, "My Dinosaur Life." The album, which charted at 15 on the Billboard 200, earned Motion City a perfect, raving five-out-of-five review in Alternative Press.
I don't think I could choose a standout single from either album's run-through; each piece was performed excellently and met with equal fervor. Motion City Soundtrack has truly matured into a band that deserves every bit of recognition and celebration, and all signs point to what will hopefully become an unprecedented success in their next album.