The Pennsylvania Ballet, despite its short 50-year history, is currently ranked as one of the best American ballet companies. One of the staple characteristics of this company is its fascination with George Balanchine. This season, a lot of productions the company did were Balanchine adaptations, such as "The Nutcracker" and "A Midsummer Night's Dream." Not many people know that the founder of Pennsylvania Ballet, Barbara Weisberger, was actually a student of Balanchine's. The company's favorite was featured once again last week, accompanied by choreographies by Christopher Wheeldon and Twyla Tharp. The three-piece performance ran Feb. 7-10 at the company's own Merriam Theater.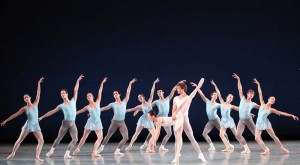 The work of these three dynamic choreographers gives an idea about the contemporary ballet with Balanchine's "Square Dance," Wheeldon's "After the Rain" and Tharp's "Push Comes To Shove." The performance represented the most important trends in contemporary choreography. "Square Dance," originally written in 1957 and revived in 1976, is a collocation of classical ballet and American folk dance. Yet, because of its use of point shoes and maintaining the classical body frame, it is still considered to be ballet. Balanchine redefined ballet by juxtaposing classical sharpness of movements and rigid metrics of sequences with folk traditions of square dancing. In that regard, his ballet is very mathematical and clear, especially with the solo roles performed by the highly compatible Brook Moore and Jong Suk Park.
Wheeldon's "After the Rain," on the other hand, is a much newer piece. It was written for the New York City Ballet and premiered in 2005. It consists of two parts: one, set to Arvo Part's "Tabula Rasa," is a very focused yet serene composition performed by three couples. The second part, often performed separately, features Lauren Fadeley and James Ihde. In this lyrical pas-de-deux, Wheeldon and Part contained a lot of wistfulness and tenderness, creating a very emotional, even poignant piece. In the next composition from 1992, "Push Comes To Shove," choreographer Twyla Tharp brings a sudden turnaround of the emotional deck. The piece starts with a ragtime-style dance featuring the brilliant Alexander Peters and his two female sidekicks: Evelyn Kocak and Brooke Moore. After that, the ballet proceeds to a more traditional composition. For that reason, "Push Comes To Shove" is considered to be the most famous example of a "crossover" ballet, or one that merges classical and modern dance. An interesting feature of Tharp's piece is the omnipresence of hats, which testifies even more to Tharp's crossover tendencies, which introduces the vaudevillian tradition that the piece carries on.
Interestingly, Balanchine, Wheeldon and Tharp are often placed side by side in performances like this. Together, they represent the most prominent movements of the contemporary ballet.