Budweiser's Made in America Festival set up shop in Philadelphia Aug. 30-31 for the third year in a row, on the Benjamin Franklin Parkway. The prominent two-day music festival, which also took place simultaneously in Los Angeles for the first time this year, drew in an eclectic crowd of fans — upwards of 90,000 on the East Coast alone.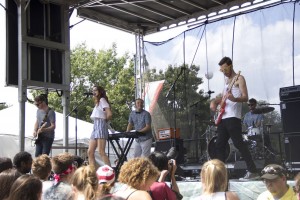 The wide-ranging line-up included Kanye West (who performed in Philadelphia Aug. 30 and Los Angeles the next day), Pharrell Williams, Kings of Leon, Steve Aoki, Tiesto, Bleachers and many others.
One act in particular that stood out was Misterwives, a New York-based soulful pop band who gained popularity with their songs "Vagabond" and "Reflections." Although they had an early 1:15 p.m. time slot at the Skate Park Stage on Sunday, they were able to attract a hefty crowd that jammed along with the group during their 30-minute set as they played songs from their EP released in January.
After their performance, we were able to chat with lead singer Mandy Lee and drummer Etienne Bowler about everything from their recently released music video, which was shot locally at Bryn Mawr College, to their favorite vegetarian spot in the Big Apple.
The Triangle: You mentioned while you were performing that you came to Made in America two years ago as a spectator, and now you're performing this year. How does that feel?
Mandy Lee: Yeah, it's pretty crazy [that] dreams come true. You know, you go to these festivals and you're like, "Wow, one day I'd like to play this," and then we got it. Even though we were the first act, it was a pretty healthy crowd for a 1:15 p.m. show. I'm pinching myself that we get to do this kind of stuff.
TT: You said you imagined 10 people showing up, but that was a hell of a lot more than 10.
Mandy: Yeah, I felt bad for the people after us who played. There was like 10 people for them. That's what we were expecting for us. So, we're always forever thankful that so many people show up.
Etienne Bowler: No matter what show we play, we always expect 10 people. For some reason, we're not accepting of reality.
TT: Tell me about the first time you heard your song "Reflections" on the radio. You brought up during your set that you guys were in Kansas City, Missouri.
Etienne: Have you ever seen that movie "That Thing You Do?"
TT: No.
Etienne: Well, there's a moment where their song's on the radio and everybody cheers and starts screaming.
Mandy: Yeah, it was like a scene right out of a movie. And, it was by chance that we were in Kansas City and they played it. We knew that our song was going to radio, but we didn't think we would catch it in the city we were in. And so we're listening and they're like, "Oh, we got these newcomers, 'Misterwives.'" We freaked! I filmed it. They also had people calling in to give their opinions on whether they liked it or not. We didn't realize it was going to be an "American Idol" type of thing.
Etienne: It was scary.
Mandy: Yeah, after the song played, the [disc jockey] was like, "And the results are … overwhelmingly positive! Everyone likes it."
Etienne: He could've been like, "Yeah, no one likes this."
TT: Like, "We're never playing that song again."
Mandy: Right! Which would have been horrifying.
TT: Tell me how you guys all met.
Mandy: Pretty boring way of meeting. It was serendipitous for sure. We worked a block away from each other. We worked in [New York] at two different vegan restaurants. And so, we'd always go into each other's jobs and talk about music. So I invited him to come jam, at the time, with different people I was playing with, except for Will [Hehir], the bassist — we were roommates, so we'd always play for fun.
Then, we invited Etienne into the equation since we didn't have a drummer. We just all had an immediate chemistry and started recording all the songs that are on our EP, basically in his bedroom. I had a show booked — I used to book all of our shows in the city — and we needed a full band. So we invited Marc and Jesse, the guitarist and keyboard player, just to see how it worked. We just knew they were the right fit.
Etienne: Yeah, and after our first show together, we got offered a record deal. So we were like, "Alright, we're doing something right."
TT: I was just about to bring that up. Some bands play for years and can't gain any traction. What do you think you all had that made the record label sign you guys so fast?
Mandy: No f–king idea!
Etienne: Definitely, I would say, Mandy is responsible for all of it because she's been doing music for a long time trying to steer her career. Everyone has been pulling her in opposite directions. That moment was kind of a combination of luck, destiny and the right people being there.
Mandy: Definitely destiny. And, we have an amazing team. I guess we're just all really best friends. For so long, we've all done music and every different direction I went, people tried to make it a solo project and say I need to be more sexy. I said, "F–k this!" I just wanted a band and for it to be like a family. And that's how it is. We don't play to any tracks. We don't have any fancy gimmicks. Just best friends playing together and, I guess, people want to see that.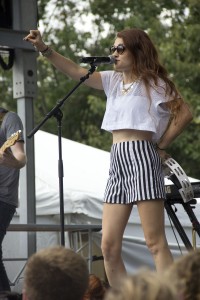 TT: You guys recently dropped the music video for "Reflections." There was a food fight, which looked like a ton of fun! Tell me about the concept of the video.
Mandy: That was two days of the most fun I've ever had, for sure. It was exhausting!  As for the concept, it seems abstract because we didn't want a literal interpretation of the song. We actually shot a music video for it before this one and it was a disaster. It was cheesy and had fake fire and shattered glass.
Etienne: Everything we didn't want in a video was in the first video we shot.
Mandy: Yeah, it was a very literal interpretation. The concept of being in detention and being trapped and trying to figure a way out was the same as [being] in a heart break — you're trapped. You see your ex everywhere and there's feelings that you just can't get over it. The video is very loose, but we like that it's a very fun and playful way of looking at what the song's about.
TT: Back to the first video, how did you guys tell the director his video was crap?
Etienne: That was the easy part. We actually didn't even say anything to the director.
Mandy: Yes I did. I called him the night I saw it. It was at South by Southwest. I saw it and we were all really excited, but also felt skeptical because we were like, this just doesn't feel right. We were cornered and everyone was like, "You have to get a music video out if you want to travel to the U.K." So, we were very pressured to work with this guy even though we didn't know him or his work and we didn't like what we were doing. I saw it and it literally looked like an Arby's commercial.
Etienne: She watched it for five seconds, shut it off, turned to me and was like, "We're not releasing this." I was like, "Wait, please, at least watch it."
Mandy: You just know. It was so horrible. Eventually, maybe we'll release it and be like, "Hey guys, this is what it could've been."
Etienne: If at the end of our video we put "JK," it would've made more sense and been amazing. I wish we had thought of that before. But, the hard part [about the entire process] was being like, "Look, we need more money to do another video because this is not who we are." Everyone was like, "This is a horrible career move." But, we didn't care. Our one job is to put out good music and a good product and stuff we believe in. That was the goal. I think we've achieved that with the second video and are much happier with it.
TT: Now you guys are working on your first full length album, scheduled to debut early 2015.
Etienne: Yes, we were hoping for January. Realistically, [it will be] February. No later than that.
TT: How has the recording process been?
Mandy: Amazing! It's been a dream. The producer we've been working with is an extension of our band and we've been having a ton of fun.
Etienne: We have five or six songs done and everyone's excited and we all feel great about it.
Mandy: Each song tops the next. We're like, "This is the best song ever!" Then, the next one we do, we're like, "No, this one is even better!" It was tricky writing the album, though, because we were on the road and we were trying to figure out how to keep it our passion. So, that aspect was very interesting, but it worked out. We're really stoked to release it.
TT: I know you guys are going on tour with Twenty One Pilots, can we expect a collaboration on the album?
Mandy: I am so down! I mean, we're going to be on the road for a long time and we typically become friends with the bands we play with, so it could happen.
Etienne: Twenty One Misterwives.
Mandy: Twenty One wives.
TT: Going back to the music video, which was filmed in a high school — give me one thing you two miss about school.
Mandy: Detention.
Etienne: Definitely not detention.
TT: Can you recall a moment when you had detention and the reasoning?
Mandy: I was late to school every day and frequently missed first period. I was bad with being timely. So, I always had detention. But, I went to [LaGuardia High School], a performing arts school in New York, and there was such a unity of musicians. That's how I first started writing music. I took a songwriting class and I just remember being like, "This doesn't feel like school." I guess there are academics, but the music aspect of it was just so cool.
TT: Looking back, did you guys ever picture yourself where you are now in your career? You know, with a successful single getting radio play, a full-length album in the works, and playing major festivals like Made in America and South by Southwest?
Mandy: I mean, it's always the dream, but I didn't think it would happen so fast.
Etienne: When you think of a dream you often think of it not being reality or not really happening. The fact that we're here is still a dream. We don't feel like it's real.
TT: Aside from the album coming up in 2015, can we expect anything else?
Mandy: Yeah, we're going to do our first headlining tour, which is really crazy. They're already planning it. Definitely more music videos. Maybe a cookbook.
TT: A cookbook?
Mandy: Yeah, a Misterwives cook book. We're getting our first tour bus on this Twenty One Pilots tour and I love to cook, so I'm hoping we can do some of that on the bus.
TT: So, no fast food?
Mandy: Hell no! Never!
Etienne: We never stop for fast food!
TT: Not even for McDonalds?
Etienne: Well, we're vegan and vegetarians, so it's a bit hard eating fast food. It would just be a lot french fries.
TT: What's your favorite vegetarian spot?
Mandy: I would say Blossom in Chelsea, [New York]. You should check it out. It's amazing! They have some of the craziest vegan food you could ever experience.
Etienne: I used to work at their uptown location. That's how we met. Their soy bacon cheeseburger is so good! They also have great desserts.
On Sept. 27-28, Misterwives will be opening for Twenty One Pilots at the Tower Theater in Upper Darby, Pennsylvania.