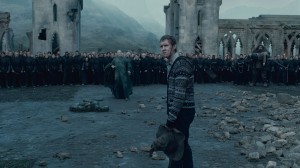 Ralph Fiennes as Lord Voldemort and Matthew Lewis as Neville Longbottom in Warner Bros. Pictures' fantasy adventure "Harry Potter and The Deathly Hallows – Part 2."
Additional reporting by Mike Arrison
Overseen with a careful eye by the untouchable author J.K. Rowling, the 10-year legacy which Warner Bros. Pictures has spent the last decade constructing draws to a close July 15, as the last film in the Harry Potter series, "Harry Potter and the Deathly Hallows: Part 2," is released throughout the U.S.
In the final installment of what is likely to become the most successful film franchise in history, the second half of the "Deathly Hallows" film is expected to surpass the $1 billion mark in box office numbers, after the monumental success of "Deathly Hallows: Part 1," which grossed $950 million. Perceived by many, ourselves included, to be the most enjoyable of all previous films, "Part 1" corrected the collection of mistakes made by its predecessors: tricking the awkward mumblings of the infamous trio (Daniel Radcliffe, Rupert Grint and Emma Watson) into great comedic moments and carrying over the darker, more mature and refined cinematic style and content of the films, which Yates introduced when he first took the reins with "Order of the Phoenix."
The screening we viewed was in 3D, and although we were saddened upon receiving a typical pair of 3D lenses instead of Harry's signature glasses, this was the first film either of us had ever seen which we felt used the optical enhancement correctly. Our reactions to the final film were incredibly balanced, as we left the theater Tuesday night feeling equal parts disappointment and ecstatic relief at various scenes and plot points.
Picking up right where "Part 1" left off – and with a short, gracefully done recap – the beginning scenes, which take place in Shell Cottage, are a perfect extension of the previous movie. As both parts one and two were filmed over the same duration of time, it was no surprise that Harry's dialogues with Ollivander and Griphook were elegantly paced, scripted and overall quite well done. The same can absolutely be said for the trio's break-in to Gringotts, which highlights the acting abilities of Helena Bonham-Carter, who does a phenomenally hilarious job portraying Hermione pretending to be Bonham-Carter's character, Bellatrix Lestrange.
Interestingly enough, I (Jess) felt that their time spent underground below Diagon Alley was nowhere near as tense and exhilarating as Rowling's passage in the book, but we have long since grown accustomed to the films' bland glossing over of Rowling's infinite number of exceptionally intricate and emotionally charged scenes.
At 130 minutes, "Deathly Hallows: Part 2" is the shortest in the series, and contrasts blaringly with the prior seven films. Whereas its precursors notoriously cut out large chunks and beloved scenes from the books, choking down as much content as possible – while simultaneously wasting time with unnecessary nature-filled transitions and poor edits – "Part 2" reveled in the simplicity of its storyline.
Strangely, this also means a great contrast between the last two hours of film and the last few chapters of "Harry Potter," where Rowling set in motion an avalanche of spilled secrets and withheld information during the trio's final published hours. Steve Kloves' screenplay spouts its fair share of concealed material, but his unveiling is a drizzle compared to Rowling's sudden and submersing downpour.
The battle in its entirety left us feeling slighted: the official trailers certainly seemed to exhaust a majority of the film's most compelling, apocalyptic images. Although the final films made a point to up their MPAA ratings to PG-13 for a more mature audience, the pressing number of casualties and true peril of Rowling's inevitably monumental battle seemed stunted. Where "Part 2" relished was in its celebration of individual characters. The "Potter" production team appeared to have a firm understanding of who the more dedicated fans wanted to be given moments of glorification. Through both comedic relief as well as badass moments, rest assured that all calibers of characters, from Neville Longbottom and Molly Weasley to Argus Filch, will not disappoint.
The decisions in book-to-movie adaption made by Kloves and Yates in "Deathly Hallows: Part 2" were intriguing. As the darkest of all tales, relentless in its pacing and combat, they stayed true to the story in dialogue, but took a confident nosedive away from Rowling's final action sequences, truly branding the film as their own work of art. Iconic moments from "Deathly Hallows" play out in new locations; and some, under new circumstances. Though slightly surprising, a resulting unanimous opinion of these changes seems unlikely: "Part 2"s turn of events will please some audiences, and vex others. Fortunately, all remain very well done and are worked seamlessly into the sequence of the film.
Though we believed "Deathly Hallows: Part 1" was by far the best example of the talent of the actors involved, the relentless action of "Part 2" leaves little time to appreciate some spectacular performances by the trio, as well as Maggie Smith (as Professor Minerva McGonagall) and Alan Rickman (as professor Severus Snape). However, the characters themselves give an immaculate amount of heart to the film, amplified by the much-loved, recurring musical composition by Alexandre Desplat.
Although the film takes many liberties in the telling of the final chapter of this epic saga, ultimately we feel that it serves as a satisfying ending to a franchise wrought with a mix of both magical wonderment and disappointment. Ultimately, we must offer the sincerest of all thank yous to the cast and crew of "Harry Potter," specifically Daniel, Rupert and Emma, for bringing our childhood stories to life in a way none other could.