After Nicki Minaj's debut album, "Pink Friday," went double platinum in December, expectations for her sophomore album have gone through the roof. After releasing a few singles that disappointed on the charts, Minaj pushed the release date back from February to April. Minaj released "Pink Friday: Roman Reloaded" April 3, which features an equal number of rap and pop songs.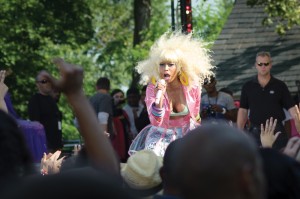 Hip-hop queen Nicki Minaj released her sophomore album "Pink Friday: Roman Reloaded" April 3 with Cash Money Records, which includes the popular track 'Champion.'
On her latest record, Minaj literally divided the album into two separate parts. The first half is entirely rap music courtesy of Minaj's demonic alter ego "Roman Zolanski" and a bevy of featured artists. Sonically, this part of the album is led by heavy-hitting bass kicks, hi-hats and very strange synthesizers that can be confusing to comprehend at times.
The most impressive song on the first half of the album is "Champion," which features Young Money teammate Drake, Young Jeezy and legendary master of ceremonies Nas. All three rappers deliver great verses over the smooth production from Canadian producer T-Minus, who produced Drake's hit single "The Motto." Other highlights of this half of the album include Rick Ross' verse on "I Am Your Leader" and 2 Chainz' verse on "Beez in the Trap," which is otherwise painful to listen to due to incredibly high-pitched echoing synths.
The second half of the album is filled with sure-to-be No. 1 radio singles, including the recent hit "Starships." The only feature on the second half of the album is from Beenie Man on "Gun Shot," the second-to-last song on the album. Sonically, the album shifts to upbeat, dance hall records and ballads as Minaj begins to showcase her singing abilities. On the piano-led ballad "Marilyn Monroe," Minaj actually compares herself to the legendary icon on the chorus. "Call it a curse, or just call me blessed. If you can't handle my words, you ain't getting my best. Is this how Marilyn Monroe felt? Well, must be how Marilyn Monroe felt."
After an entirely pop-driven streak of nine songs, Minaj decides for some reason to end the album with "Stupid Hoe," a song created to diss Lil' Kim, the former leader of female masters of ceremonies. The inclusion of this song at the end of the album is quite confusing and doesn't really fit. Throughout the album, Minaj decides to take shots at other female rappers and artists despite the fact that she's sitting at the top and staring down at all of them. She constantly feels the need to remind everyone that she's on top, and she doesn't spend much time talking about other topics.
Somewhere over the last two years, Minaj has gone from promising rapper-on-the-way to becoming the queen of hip-hop and an international pop sensation. While she still does showcase her rapping abilities, you won't see any of her true rap songs succeeding on the Billboard charts.
After hearing Minaj on Kanye West's "Monster" in 2010, I, along with many other hip-hop fans, had incredibly high expectations for what Minaj was going to bring to the table. Since then she seems to have adopted a split personality. She is still able to showcase her rap skills on her album, but the songs that hit radio are all pop-based songs where Minaj typically sings the lyrics.
Although her album will see great commercial success, "Pink Friday: Roman Reloaded" shows that Minaj is torn between two genres. Eventually she'll have to pick one lane, but for now, her musical schizophrenia and catchy singles will keep her at the top of the game.