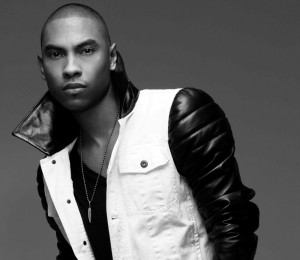 To say Miguel's R&B career got off to a shaky start would be an understatement. After producing a top-10 single with the album's title track, "All I Want Is You" featuring J. Cole, Miguel's debut sold just 11,000 copies in its first week. Fortunately for Miguel, his debut has now sold nearly 400,000 copies, and his sophomore effort may soon be reaching similar heights. With "Kaleidoscope Dream" Miguel continues to push the sonic boundaries of R&B music with huge electronic influences.
Miguel took an incredibly interesting approach in releasing his sophomore album. It started in the beginning of 2012 when he released the "Art Dealer Chic" trilogy of free EPs that included three songs each. More recently he digitally released "Kaleidoscope Dream: The Water Preview" and "Kaleidoscope Dream: The Air Preview," which feature a total of six songs, all of which are on the full album alongside five new songs.
"Kaleidoscope Dream" opens with "Adorn," the album's lead single, which spent time atop the Billboard Hot R&B and Hip-Hop Songs chart earlier this year and was featured on both "Art Dealer Chic, Vol. 1" and "The Water Preview." Miguel's sophomore effort continues with a standout, "Don't Look Back," which opens with a heavy kick drum and synthesizers. Miguel sings on the hook, "If I don't make it back before the sun, all you have to do is run, just promise you'll run. And don't look back," before the synths drop out cleanly for the verses. The song comes to an end with a unique interpretation of The Zombies' famous single, "Time of the Season." This is one of the moments in which Miguel's artistry shines. In a genre where many of the stars don't write their own lyrics, Miguel wrote all of the album's 11 songs.
Following "Use Me," the album later shifts to the second single, "Do You," in which Miguel opens with the question, "Do you like drugs?" This is followed by the album's title track, which is one of two songs produced by Salaam Remi on "Kaleidoscope Dream." The track, filled with layered vocals, is laid out simply over a guitar riff with deep bass stabs and light synthesizers during the breakdown. Remi's other contribution to the album appears after "The Thrill." With "How Many Drinks?" Miguel delivers a classic bar scenario. He sings on the hook, "How many drinks does it take you to leave with me? Girl you look good, and I got money but I don't want to waste my time. Back of my mind I'm hoping you'll say two or three. You look good, we came to party, but I don't want to waste my time."
"Where's The Fun In Forever," another standout from "Kaleidoscope Dream," features support on the chorus from Alicia Keys, who is the only featured artist on the album. Another song from the "Art Dealer Chic" EPs makes an appearance next with "Arch and Point," followed by a hysterical, seemingly impromptu recording of "P—y is Mine." The album then comes to a close with "Candles in the Sun," a ballad in which Miguel references The Notorious B.I.G.'s "Kick in the Door" as he comments on the current state of our society.
Overall, "Kaleidoscope Dream" is a strong improvement over Miguel's debut, "All I Want Is You." As a whole, it's much more complete and focused and once again showcases his artistry and talent. The standout tracks don't outshine the rest of the work as they did on his debut, which makes the album a full 46-minute experience. This is definitely one of the top R&B albums of 2012.