One thing that makes Ingrid Michaelson so relatable to her fans is how real and grounded she is. Adorned with her black-framed glasses and cute, girly smile, Michaelson could win anyone over. She doesn't need to dress provocatively or be center-stage in the latest scandal to earn recognition. All she needs is a guitar and that sweet, sweet voice.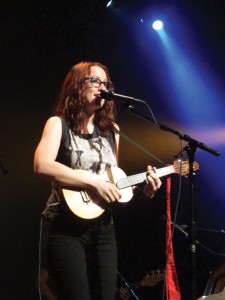 Ingrid Michaelson released her fifth studio album "Human Again" Jan. 24, featuring the single "Ghost."
Michaelson released her fifth studio album, "Human Again," Jan. 24 with Cabin 24 Records. The album includes the single "Ghost," released Nov. 15. In this album, Michaelson has veered away from her coffee-shop lullabies, substituting cute, upbeat love songs with heavier themes such as betrayal, heartbreak and the brotherhood of mankind. "Human Again" reflects Michaelson's unique musical style with a few drops of Tegan and Sara.
The indie-folk singer released her first studio album, "Slow the Rain," in 2005, followed by "Girls and Boys" in 2007, "Be OK" in 2008 and "Everybody" in 2009.
Anybody who says they have not heard Michaelson's music is most likely mistaken. In 2007 the single "The Way I Am" from "Girls and Boys," which makes anyone want to snuggle in a big, old sweater, was featured in an Old Navy TV commercial. Michaelson's songs have been featured on the hit TV series "One Tree Hill" and "Grey's Anatomy," granting her further recognition and popularity.
The New Yorker has matured significantly in this album, trading in her ukulele for heavy orchestral strings, pianos and thrumming drums.
"Human Again" begins with "Fire," an upbeat orchestral song that seems rather masochistic as Michaelson sings, "Open heart surgery, that is what you do to me. Cut me up, set me free, that is what you do to me." Talk about a love-hate relationship.
Next, Michaelson puts her armor on in "This is War" as she battles a one-sided love. This inspirational song has a more intense sound then Michaelson fans are used to, but the sporadic ukulele is recognizable. "This is war, this is war. I will run until I can't run anymore. Someone's got to lose. It's not gonna be this girl this time." You tell him, girlfriend.
While the main focus in this album is love and heartbreak, Michaelson sings of the bonds of humanity in "Blood Brothers," emphasizing the importance of mankind sticking together. She sings, "What you need, I need too. What you are, what you are, I am too. 'Cause we're all the same under a different name." We all need to share the wealth and spread the love.
"Black and Blue" is a bit more electronic then most of Michaelson's songs, but she twists in folk sounds with the occasional whistling tune. Again, Michaelson seems to be mistreated by her lover but continues to love him. "I'm black and blue and in love with you. You said you never would let me fall, you never would let me fall, but I'm falling."
At this point in the album, I'm getting pretty depressed, although it is a fantastic album. In "Ribbons," Michaelson got her hopes up with a guy, only to be disappointed. "You put your Sunday best on for us all, painting up a promise that you know will fall. Wrap me up in ribbons, tie me to the wall."
Michaelson brings back her original sound in this beautiful acoustic ballad "How We Love," the perfect song for winding down after a stressful day. The song reflects people's need for love and how easily they can turn on it. "We hate the rain when it fills up our shoes, but how we love when it washes our cars. We love to love when it fills up the room, but when it leaves, oh we're cursing the stars."
A song that deserves infinite praise is the single "Ghost." This goose bump-inducing song, accompanied by tambourines and haunting strings, will leave listeners breathless and heartbroken. You can hear the pain in Michaelson's voice as she sings, "Do you know that I went down to the ground, landed on both my broken-hearted knees. I didn't even cry because pieces of me had already died."
To say that "Human Again" is a good album would be an understatement. Words like "moving" and "stirring" better fit the effects this album will have on its listeners. Michaelson has truly transformed since 2005, and I say it is all for the better.