Each year, the Costume Institute Gala presents a fashion exhibit at the New York Metropolitan Museum of Art to commemorate either a notable designer or a highly celebrated movement in the fashion industry. In order to celebrate, Vogue hosts the Met Ball to mark the exhibit's opening. This year's Met Ball was held May 6 with the theme of "Punk: Chaos to Couture."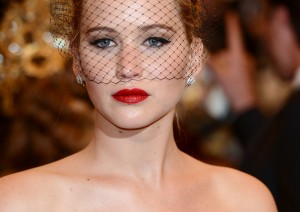 Known as "the Oscars of the East Coast," the Met Ball is a night where designers, models, actors, actresses and many other notable elites wear their most distinguished attire. Attendees usually spend approximately three months planning their outfit because their ensemble for that night is highly publicized. It is also traditional for attendees to wear an outfit that fits with the exhibit's theme.
Past themes include "Schiaparelli and Prada: Impossible Conversations" in 2012, "Alexander McQueen: Savage Beauty" in 2011, "American Women: Fashioning a National Identity" in 2010, "The Model as Muse" in 2009 and "Superheroes: Fashion and Fantasy" in 2008.
There were many notable outfits that walked down the red carpet during this year's Met Ball. Many attendees greatly impressed the public by wearing theme-appropriate outfits. Singer/songwriter and actress Beyonce wore a black Givenchy gown with a gold ornamental pattern below her waist. Actress Sarah Jessica Parker stayed loyal to the theme and wore a dress by Giles Deacon with a dramatic headpiece by Philip Treacy. Actress Jennifer Lawrence looked elegant by wearing a simple black shoulderless Dior gown. Actress Cameron Diaz looked regal in a blue Stella McCartney gown with a heavily studded belt that was cinched at the waist.
Attendees who didn't fully impress the public included Kim Kardashian, who wore a Riccardo Tisci floral-printed gown that covered her body all the way from her neck to her fingers, which didn't complement her silhouette. Actress Gwyneth Paltrow wore a hot pink Valentino Couture gown that covered her entire body, including her neck and arms, with a slit above her chest.
With this year's "Punk: Chaos to Couture" theme, the exhibit will contrast London and New York, two cities where punk originated. The exhibit will display designs by notable "punk" designers, including Riccardo Tisci for Givenchy, Vivienne Westwood and Hedi Slimane for Saint Laurent, to name a few. In addition, the exhibit will also focus on different kinds of punk aesthetics, including "hardware," "bricolage," "graffiti," "agitprop" and "destroy."
The exhibit is open to the public May 9 through Aug. 14.