To kick off 2011, Philadelphia rapper Meek Mill signed a joint record deal with Warner Bros. and Rick Ross' Maybach Music Group. Since then he has been featured on the label's collaborative album, "Self Made," and has released two installments of the "Dreamchasers" mixtapes. With his debut album, "Dreams and Nightmares," coming Aug. 28, Meek Mill had one last chance to give the fans a taste of what they can expect to hear this summer. He released "Dreamchasers 2" May 7, and it received over 2 million downloads in the first 24 hours it was available on datpiff.com. After a lot of hype generated around the project, Meek Mill lived up to the expectations and delivered his best mixtape to this point in 2012.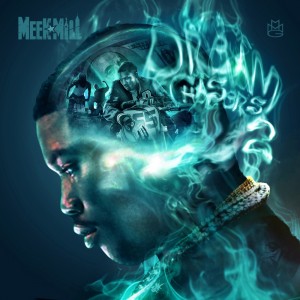 "Dreamchasers 2" opens with a heavy-hitting intro accompanied by an echoing chorus in the background. Meek Mill comes out firing to let the world know that it's his time'.
"Y'all n—-s was sleeping on me; y'all really were up at night. Tryna chase my dream, now I ball out for my team," Meek raps. After delivering warning shots on the intro, he changes up the pace with "Ready or Not," which samples The Fugees' legendary song of the same name.
Meek's talents of energy and presence on each song separate him from other rappers. Those talents are on full display over the next few songs, beginning with  "Amen," which features Jeremih and Drake. Drake delivered the best line on the album: "I'm the type to say a prayer and then go get what I just prayed for."
The album continues with "Burn," featuring Big Sean and produced by Jahlil Beats, who gave Meek Mill his first hit, "Ima Boss." In "Burn," Meek and Sean go back and forth delivering fast-paced rhymes over sirens and a solid beat. The final standout of the first five songs is "A1 Everything," which features Kendrick Lamar for a surprising collaboration.
The pace slows down with "Use To Be" before picking right back up with "Flexing" and "I Get It." After three more songs of the same high-energy, braggadocio nature, including "Everyday" featuring Rick Ross, Meek Mill breaks it down and tells his story on "Big Dreams" over the piano-led melody with a clean backing of drums. "Small city, big dreams, I've been waiting on this day since I was 16." The song shares parts of Meek's upbringing and how he arrived at his current success'.
The energy starts up again on "Take U Home," which features Big Sean and labelmate Wale on this fun summer jam. Meek then goes on to remix Drake's "The Ride" before getting back into two consecutive party songs featuring Trey Songz on the first, 2 Chainz on the second and Wale on both. This perfectly flows into the remix of Meek Mill's hit from last summer, "House Party," which features Fabolous, Wale and Mac Miller.
The mixtape comes to a close with three closing songs that bring the project full circle, including the outro, which uses a similar beat to the intro's heavy-hitter as DJ Drama, the "host" of the mixtape, shares his final thoughts.
For "Dreamchasers 2," Meek Mill compiled 20 songs that showcase a variety of production sounds and plenty of street bangers. He also shows vast improvement from the first installment of the series and gives hope for an impressive debut album. If you haven't already done so, I highly recommend you download this mixtape now.