"People have [different] sides to them; I don't know why music can't and why a band can't," frontman Honus Honus contemplated while sitting on the curb outside of Union Transfer before Man Man's sold-out Halloween show. Eclectic and down to earth, Honus shed some light on the band's unique sounds, onstage rituals and plans for the future. Native to Philadelphia, Man Man has a style that ranges from a sound resembling cheery doo-wop to something much darker, though its songs usually lie somewhere between the two.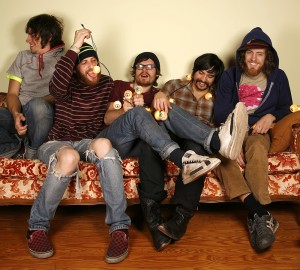 "I don't know why we can't have a song that's playful and depressing at the same time," Honus said. While some may think that Man Man's inability to fit into a category could hinder the band's success, it's a factor that sets it apart from almost every other group out there. That, and the rusty "love-it-or-hate-it voice" that each song is centered around, creates a completely unique and somewhat unrefined aura that transfers easily to their exciting live performances. Even though its sound was unusual, both its music and performance were relatable and ceaselessly enrapturing. Honus captured the band's essence, saying, "I don't think we made it easy for ourselves by naming ourselves Man Man and having obscure album titles and strange stage names. But I think if we can get you in the door, you'll stick around."
When asked about the band's unique Eastern European carnival sound, Man Man's lead singer, songwriter and keyboardist gave an unexpected but very fitting answer. Honus stated that "a lot of sound effects tapes like the sounds of whales and Halloween sounds and some doo-wop" sparked hits like "Engwish Bwudd" and "Piranhas Club." Man Man's new album, "On Oni Pond," released Sept. 6, embraces its dark carnival-esque sound while adding some new dimensions of pop that translate well onstage and lend an infectious quality to its music in a live performance atmosphere. Preceded by Hell Shovel, Melt-Banana, and King Khan and the Shrines, Man Man started its Halloween show cloaked in festive attire, more than ready to mesmerize the crowd with its unique performance. Frequently leaving his keyboard to dance across the stage, Honus commanded his audience and told a story with each song. Without a still body in the venue, Man Man played through its set, never stopping to take a break or speak to the crowd. As the energy steadily climbed throughout the show, Honus incorporated different costumes to "get into character for a song." Clarifying one of the many oddities that one would witness at a Man Man show, Honus explained that it "helps invest me more fully in the song if I'm uncomfortably dressed in an outfit that I would otherwise never wear," because he "like[s] stepping beyond [his] comfort level." Though these tactics are unusual, venues packed with lyric-reciting fans prove that in the case of this band, being strange may not always be a bad thing.
As for the band's future, it seems to grow with every album, consistently incorporating new instruments, sound effects and styles to keep its music in a constantly progressive state. When asked about the band's future, Honus surmised that it still "[has] another record in [it] at least." Though he couldn't quite say what was in store for the band's musical dynamic, he reinforced the musical innovation that Man Man has shown throughout its five studio albums, thoughtfully saying, "You know, you [have to] change the strings every so often, otherwise the tune sounds stale."