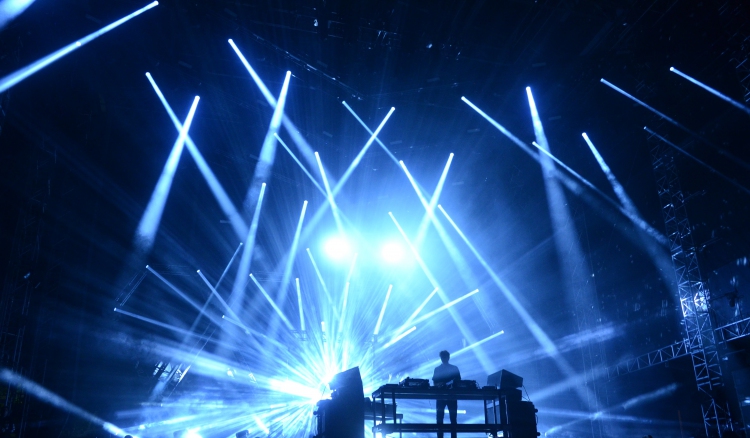 The Ben Franklin Parkway was originally designed to emulate the Champs-Elysees in Paris. Going all the way from beautiful City Hall, down past Logan Circle, up through the tricky to navigate Eakins Oval and ending at the iconic Art Museum, if you squint a little you can almost see the resemblance to the famous French thoroughfare.
Every Labor Day weekend for the past five years, this parkway has been home to one of the better music festivals on the east coast: Made in America. Masterminded by Jay-Z, the festival has grown into one of the hottest events in Philadelphia. Thousands of people decked out in all sorts of America garb came out this year to check out artists from all different genres. Rihanna and Coldplay were the top acts along with Chance the Rapper, Jamie xx and FKA Twigs. These artists combined to create a stellar weekend of musical action on the parkway.
This was my first time attending Made in America, and let's get one thing straight right away, it is as close as you can get to Drexel. A 15 minute stroll across the Spring Garden Street Bridge and you're there. You might have to wait in a long line of drunk twentysomethings  to get into the festival itself but, hey, at least you got to the line quickly.
Five stages were set up: Rocky, Liberty, Freedom, Tidal and Skate. The Rocky and Liberty stages were for the bigger acts, Freedom was for mainly EDM artists, Skate was for smaller indie acts and finally Tidal was for everyone in between. Everything is pretty close together so you can go from seeing British rockers Basement to rapper Lil Yachty to whatever FKA Twigs is up to with only a short walk.
Along the main drag of the parkway were food trucks, shrines to the major sponsors (Tidal and Budweiser) and a Ferris Wheel. People of all sorts were in attendance: young people in practically no clothing, dudes wearing Ben Simmons Sixers jerseys, Ben Simmons himself, Ben Simmons' teammates Jahlil Okafor, Robert Covington and Jerami Grant, first daughter Malia Obama and why not, Bill Clinton too! Jay-Z and Beyonce (mainly Bey, who are we kidding) are real famous people magnets, I tell you.
There was a little fear of Hurricane Hermine putting a dampener on Saturday's festivities but by the time the first act took the stage the sun was shining and everyone was ready for a good time. Porches got things starting to a crowd of maybe 30 people over at the Skate Stage. The indie Pitchfork darlings played a real tight set, consisting mainly of songs of their latest album "Pool." While waiting for Car Seat Headrest to come on to the Tidal Stage, I got to take in Manolo Rose, a rapper who brought people on stage to dance while jumping around like there was no tomorrow. Soon after him the boys from Car Seat Headrest took the stage and delivered the maximum amount of rock n' roll recommended by the Surgeon General in a half hour period. "Destroyed by Hippie Powers" was particularly on point, especially to many a festival-goer, with the lyric "Should not have had that last beer."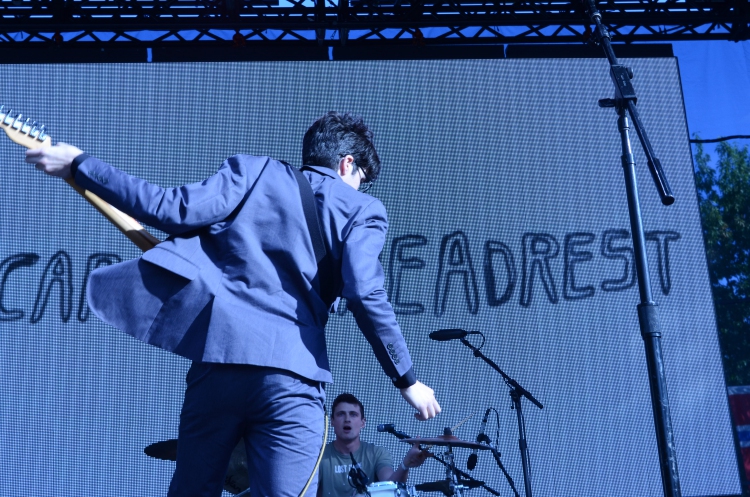 Grimes was mysteriously absent from the day's events after being billed as one of the top artists. Jay Electronica filled her spot on the bill and put on a concert that was literally riotous. Police had to step in after the artists invited folks from the crowd to storm the stage. What a time to be alive! Finally, Jamie xx and Rihanna put an end to the day with two stellar sets.
The sun was shining again Sunday and the day's festivities seemed to surpass those of Saturday with performances by Edward Sharpe and the Magnetic Zeros (ESMZ), Chance the Rapper, Travis Scott and of course, Coldplay. Gary Clark Jr. brought some soul and blues rock to the Liberty Stage, delivering plenty of sweet guitar solos in the early afternoon.
It was over on the Rocky Stage that ESMZ that put on a show like nothing I'd ever seen before. Frontman Alex Ebert casually wandered between the stage and the fans lined up around the barriers down below. He posed for pictures while singing, handed off the microphone to let a guy freestyle rap and danced with fans on stage. At one point he just walked up to a fan, said "What song do you want to hear next?" and then launched into a great rendition of their hit song "Home."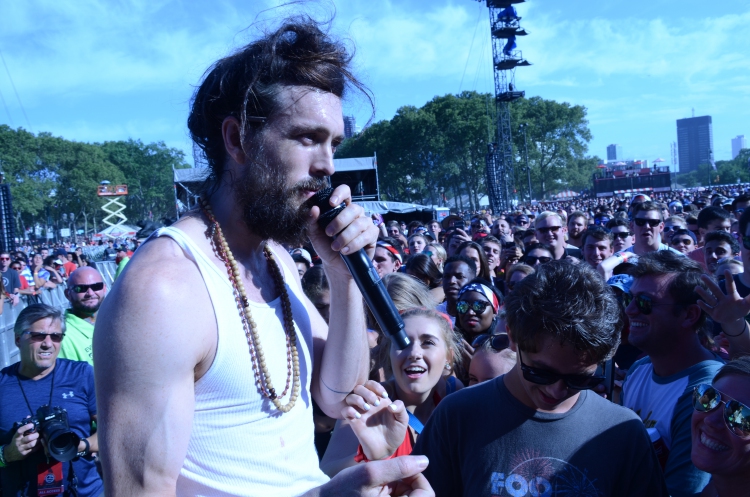 Travis Scott whipped the crowd of the Liberty Stage into a frenzy with backing beats that you could probably hear all the way down at City Hall. The man even climbed up a tree by the stage and performed up there for a bit. It seemed like Scott's fans made their way over to the Tidal Stage later for Lil Yachty, a rapper who came out to the Rocky theme song wearing a sweet boxing robe. It was a real rowdy affair, people really love that rap music. This was best seen when Chance the Rapper hit the Rocky Stage Sunday night. Living up to his very accurate monniker, Chance was on the top of his game. Playing songs spanning his entire discography, Chance brought the house down with his verse from Kanye West's "Ultralight Beam" followed right up by "Father Stretch My Hands Pt. 1." But then there were the songs from Chance's latest album "Coloring Book." And what songs they were. "No Problems," "Blessings," "Summer Friends," "All Night," it was astounding. His stage presence was tremendous, hopping all around the stage, chatting with the crowd in between songs, it was really something.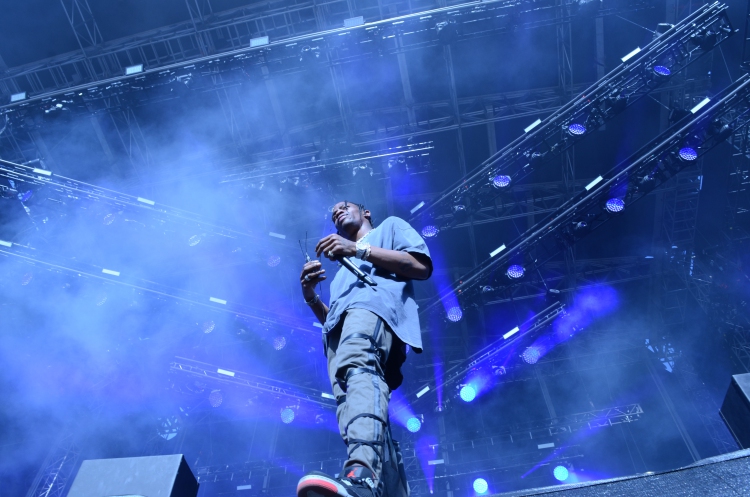 And then there was Coldplay. The British stadium rockers' music is often described by hipsters as being mainstream trash but if you know anyone who wasn't singing along to "The Scientist" Sunday night, I'll pay 'em a dollar (please feel free to contact me at [email protected]). There is nothing quite like seeing lead singer Chris Martin go absolutely bananas on stage. The man is a human dynamo, bouncing all over while belting out the lyrics. As fireworks shot off into the night sky above the Rocky Stage, Coldplay closed out Made in America 2016 with "Up&Up."
Made in America is a good and fun time that is hard to pass up, especially considering it's just a short stroll from campus. The five-year agreement between the festival and the city expired this year, so we'll have to see if it comes back to Philadelphia for 2017. If not, boy will all of this year's attendees have something good to hold over their less cool friends' heads!