As one of the only trucks blasting jazz while simultaneously selling equally appealing burgers, Lucky Old Souls has become one of the new favorites at Drexel. Located at 33rd and Arch streets, LOS is only at Drexel on Wednesdays from 11 a.m. to 3 p.m. Because LOS parks on campus just once a week, the lines — especially during the lunch rush — can get considerably long.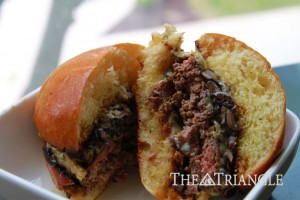 LOS began as an online jazz radio show called "G-Town Radio" with the food truck's owner, Matt Feldman. Although their music can no longer be found on the radio, there are still monthly concerts in Center City featuring jazz music. Feldman fiddled with the idea of bringing his passions together — incorporating music and promoting jazz at the same time. He began playing with the idea of having his own truck and eventually put the plan into action by mid-October 2011. Pop-up concerts for LOS are now very real at certain events, with the double joy of live music and delectable burgers at the same time.
The goal of LOS is to protect the environment by using recyclable packaging. LOS also cooks its food by using only locally sourced ingredients, such as their cheeses from Lancaster County. This serves not only to benefit the local producers but also to provide high-quality ingredients for the consumers.
The ingredients also lead to LOS' tempting menu. Although the menu may look complex, the burgers are only limited to four main items — build-your-own burger, veggie burger, LOS burger and the daily special. All of the meat is purely grass-fed beef, which is better for the environment and also makes the meat more flavorful. You can start off with a basic burger that you can build to your own tasting with the choice of homemade sauces (mayonnaise, ketchup and mustard) and other toppings such as cheese, onions, lettuce, tomatoes, house-made bacon and others. With a base price of $5.50, the burger is not too pricey, but additions can be free or range up to $2. The house-made veggie burger, which is purely vegan, also has a base price of $5.50. After that, the price shoots up to $9 for the LOS burger, which is rather pricey for a burger to feed a college student.
I tried the daily burger special, which featured a grass-fed beef burger topped with local crimini mushrooms, smoked blue cheese, house-cured and house-smoked bacon, as well as house-made mayonnaise. The beef patty was cooked medium, which was a bit more cooked than I am partial to, but it was still very juicy and flavorful. The house-made mayonnaise added a bit of a tang to the burger due to the addition of lemon juice and vinegar in the mayonnaise. The house-smoked bacon was neither overcooked nor undercooked, making it perfectly crispy. Overall the burger was very flavorful, but it was more on the heavy side. As indulging as my lunch was, it also gave me a food coma for my next class.
Although I relished my burger, it was too heavy for my liking. I'll make another trip to LOS to try building my own burger with toppings to my liking, but only with an empty class schedule and full wallet. The LOS Bassett's milkshake and hand-cut fries will be my next indulgence for snacks to try. It is undeniable that Lucky Old Souls is the only food truck found on Drexel's campus that meshes burgers, milkshakes, fries and music together to form the most well-rounded food truck eating experience.