Village Pizza is under new ownership, and these guys are looking to make a strong impact on the local food scene. The same people who brought Jimmy John's sandwich shop to University City have purchased the longtime pizza shop located on the 3200 block of Powelton Avenue in order to bring the students of Drexel University Pizza.Wings.Steaks., or as they call it, "P-Dubbz".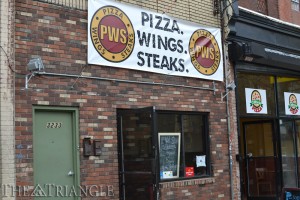 This new eatery, along with next-door-neighbor California Pizza, makes this area a pizza hot spot on Drexel's campus. PWS has a simple, straightforward menu, positioning it to compete with similar local restaurants. New owner Alex Moser spoke about what makes his restaurant different.
"It's all about the ingredients. Everything on the menu is fresh, from the rib-eye used to make the cheesesteak to the hand-cut fries and the homemade, hand-battered mozzarella sticks," Moser said. "You have to try our original Buffalo Chicken Pizza, which has chunks of freshly breaded chicken as well as a delicious buffalo base."
The fries are truly delectable — they taste and look natural and are cooked to order. The portion was more than generous, perfect for sharing.  I just wish they were salted properly.
"P-Dubbz" also sells individual pizza slices, a crowd favorite for the line of students who visited the restaurant late last Saturday night. The restaurant could very well become the next late-night spot for students, as it's open until 3 a.m. daily.
Unfortunately, the pizza was an underperformer. The bland sauce coupled with the grease factor kept me from enjoying each slice. Pricewise, though, you get a lot of bang for your buck. Of course if you're stupid enough to order a full pie, you'll be waiting quite a while among a drunken mob of students. Not ideal. Go for the pre-cooked slices — get in, get fed and get out.
It seems PWS has become a little overwhelmed by their new clientele. Upon searching for a menu online, the first search entry that popped up was a Craigslist ad soliciting employees to cook and bike their orders. Understaffed and overpopulated isn't a great business model, but hopefully they'll figure it out.
I did not try the cheesesteak, but naturally marketing this Philadelphia staple will be good for business.
I'd say the life expectancy for Pizza.Wings.Steaks. could be quite long, given their emphasis on simplicity and low cost. Plus, it's hard to taste when you're drunk off your ass.