I usually frown upon reviews done in the first person, but I am forced to make an exception here to help you fully appreciate the Sept. 28 Local Natives concert at the Electric Factory. So here goes nothing!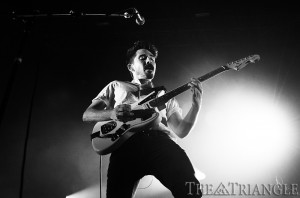 First off, Rachel, one of The Triangle's own photographers, only confirmed us receiving press passes for the show about six hours before showtime. That gave me little time to go thrift shopping for an appropriate indie-rock vintage sweater to don for the show.
As I frantically bulked up on both the Los Angeles-based band's first album, "Gorilla Manor," and the recent release, "Hummingbird," I had to Google how to get to the venue via subway without ending up in Kensington. Not to fear, I got there safe and sound just in time to catch the end of the opening set of Wild Nothing.
From what I heard, it was a pleasant mix of guitars and synthesizers, definitely enough to get my foot tapping and debating whether or not to buy one of their $20 vinyls from the merchandise table. Thankfully, my frugality and the realization that I don't even have a record player overcame the possible impulse buy. Good thing YouTube is free, right?
Now I had to kill about 45 minutes before Local Natives came out at 9:50. A concert is a great place to kill time. You can either watch the roadies move everything to and fro or people watch to your heart's desire.
The crowd was from all walks of life. I saw a lady in tie-dye overalls, a gentleman with a Duck Dynasty-length beard, and a nice couple with dreadlocks and cardigans — quite a lot of variety to be seen.
After spending a couple minutes trying to figure out why there were light bulbs hanging behind the stage, the house lights dropped and the crowd roared in approval. Right away, the band launched into a hit from "Hummingbird" titled "Breakers." After hearing 30 seconds of the band's four frontmen singing harmony, I remembered how good their show was at Union Transfer last April.
The way guitarist Taylor Rice attacked the microphone with such vigor and set the tone for the evening. With the lights silhouetting the band, they were in complete control as they smoothly segued into "World News" off "Gorilla Manor," a song that got the patrons down in front bouncing with excitement. Right off the bat, Local Natives created a raucous environment and was in total control of the near-capacity Electric Factory crowd.
As the concert went on, I just could not get past how much better this show was compared to the one last April, and according to my review back then, it was pretty awesome. First and foremost was how much more liberty they took with each song. A personal favorite of mine, "Shape  Shifter," turned into something completely different by the end, with guitarists Ryan Hahn and Rice playing back to back to finish off the song. I was so taken with the performance, with the lighting, with everything, that I even screamed, "That was so dope!" at least six times, a phrase I don't think I've used since grade school.
"Black Spot" from "Hummingbird" was another song that stood out. Keyboardist and singer Kelcey Ayer started out with the piano intro and first verse before it burst out into a beautiful harmony and then a powerful guitar solo to end the song. After perennial favorite "Airplanes," the band closed out the set with an acoustic version of "Who Knows Who Cares." Although I was dismayed to hear one of my favorite songs so differently than the album version, it was pretty stellar nonetheless, even turning into a giant sing-along by the end. The song was lit by those hanging lights I saw earlier, giving the whole song an "MTV Unplugged" sort of vibe.
I cheered for an encore while simultaneously giving people who were leaving the stink eye. I was wondering if they were going to play two of their best songs, "Heavy Feet" and "Sun Hands." The former was a fantastic showcase for the rhythmic powerhouse of drummer Matt Frazier.
Once Rice played the opening riff of "Sun Hands," the crowd went berserk. There was jumping, dancing, singing, clapping and even crying as the concert hit its climax at the perfect time. Bathed in red light through the first half of the song, the rest of the crowd and I were just waiting for the big breakdown in the middle. Finally it came as the lights blared behind the stage, and everyone screamed out the refrain in tribal fashion. Then everything cut to black, "Sopranos" style, before those aforementioned hanging lights came out swinging side to side with strobes going off and the band giving us one last jam before leaving the stage for good. It was awesome, spectacular and (sorry in advance) dope.
Luckily, my night did not end there, as Rachel from photography came through in the clutch with some backstage passes. We got to hang out in the Local Natives green room with the band, drink coconut water and speculate as to what "tofurkey" really is. I even got to talk to Ayer about a truly universal topic, "Breaking Bad." What a fantastic end to a fantastic night.