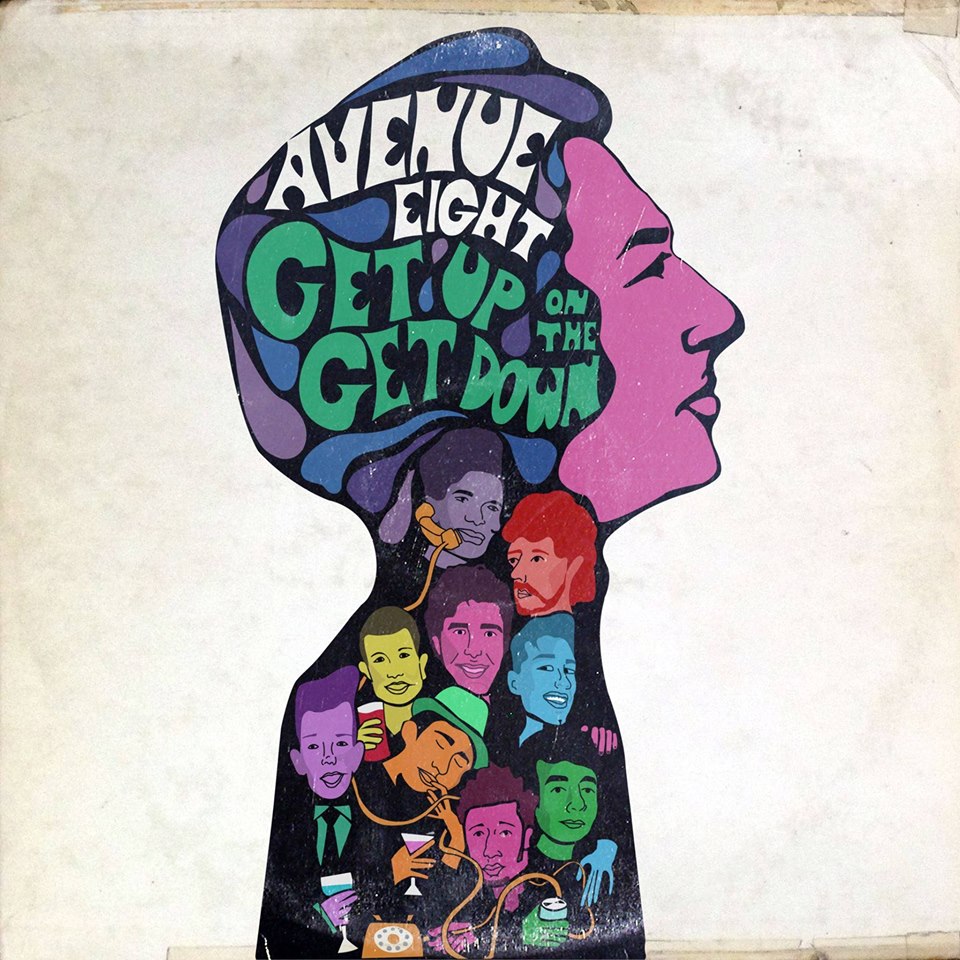 Local up-and-coming band Avenue Eight released their debut EP "Get up on the Get Down" Nov. 25.
This ten-piece group comprised largely of Drexel and Temple students is unlike any other, delivering funky pop sounds laced with feelings of nostalgia through the use of a plethora of instruments: trombones, congas, you name it.
Long time friends Franco Giacomarra (bass and vocals), A&E Editor Matt Coakley (keys and vocals), Justin Toto (guitar), "Fano" Giacomarra (drums), Felipe Ranjo (auxiliary percussion), Ossi Onu (backing vocals), Matt "Fitz" Fitzpatrick (trombone), Murphy Agger (trumpet), John Gabrys (trumpet) and Joe Gilbert (saxophone) have managed to put together an EP full of nothing but good vibes and toe-tapping tracks.
"Get up on the Get Down" was recorded in Drexel's own MAD Dragon Studios, produced by music industry senior Rishabh Singh. 
The title track, "Get up on the Get Down," feels something like an introduction for the rest of the "show," that being the remaining five tracks on the EP. With lyrics that are easy to sing along to and multiple groovy breakdowns, this is the perfect tune to set the tone for one's Avenue Eight listening experience.
The following song, "At Your Door," maintains the lighthearted feel but with rather sweet lyrics in comparison to the title track. Promising that they'll "always be at your door" Giacomarra's, Coakley's and Onu's voices compliment one another without sounding overly polished.
This brings us to "Buzz Off," which starts with hushed, show-tune sounding piano riffs from Coakley as the rest of the band piles in. This track starts off as a love song, or so one might think, until the chorus comes around and Avenue Eight tells the subject to "go buzz off." One lyric from this particular song that's worth mentioning is the line "pardon my French, but you can choke on my baguette." Heyo!
"Carried Away" is next up on the list and arguably the most fun track on the EP. Having a ten-piece band is necessary for a song like this which sounds like it's coming from the funkiest orchestra you've ever heard.
Coakley's and Giacomarra's vocals on these verses mirror sounds similar to those of the edgy boy bands we all once loved, like Good Charlotte, The All-American Rejects or maybe even Fall Out Boy. It isn't until the chorus that Avenue Eight gets back into their jamminess, singing "I get carried away."
The fifth song on "Get up on the Get Down," "One & Only One," is in competition with "At Your Door" for Avenue Eight's cutest song. Both songs have real cool guitar solos from Toto, keeping the songs from coming too close to sappy love song territory.
Coakley's keyboard skills are also on full display on this track, specifically in its intro and right before Toto's guitar blazing.
Last but not least on the EP is "Mr. Minor," an equally catchy and punchy tune. In my opinion, the horn section totally steals the show on this song. Avenue Eight has successfully chosen a song to finish the EP at the same level of energy in which it started.
Now streaming on Spotify, Apple Music, Tidal and just about any other music streaming service, you have no excuse to not listen to the wonderful "Get up on the Get Down."
Make sure to check out the recently released "At Your Door" music video while you're at it. Avenue Eight kicked off their release with huge party Nov. 26, featuring supporting local acts Grayling, Andorra and Drift.