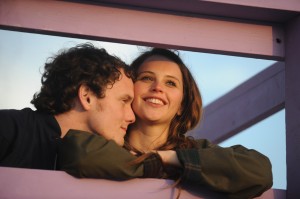 Oct. 20, the Philadelphia Film Festival opened with the critically-acclaimed "Like Crazy." The movie features rising stars Anton Yelchin and Felicity Jones, and will hit select theaters Oct. 28 courtesy of Paramount Pictures.
The 20th annual Philadelphia Film Festival opened Oct. 20 to the buzzworthy winner of the Sundance Grand Jury Prize for Best Dramatic Picture, "Like Crazy." An honest and independent romantic film directed by Drake Doremus, "Like Crazy" promotes rising stars Anton Yelchin ("Star Trek," "Charlie Bartlett") as Jacob and Felicity Jones ("Page 8," "Chalet Girl") as Anna: two college seniors whose Los Angeles undergraduate relationship feels the strain of long distance after England-born Anna overstays her visa.
Simultaneously dreamlike and callously real, the film is a splintering narration of the adoring couple, five years following their initial first date.
Doremus and Jones stopped through Philadelphia to celebrate their screening during the opening night of the film festival and clued me in to the film's atypical rehearsal and filming process, which relied heavily on natural chemistry, preparation and improvisation.
"The whole movie, all the dialogue is improvised," Doremus explained. "It's all based off of the very specific and in-depth outline that [co-writer Ben York Jones and I] made." The "Like Crazy" script is a 50-page outline that includes a lot of backstory, character development and emotional cues. "The story is really well laid out," Doremus said. "It's just the 'insert-chemistry-moment-here' is not in there. So that is left open, left to be discovered and explored on set."
If you're skeptical that "Like Crazy" is a movie for you, it might be wise to go with your gut instinct. Nostalgic and unassuming, I imagine this film works its charm best on young adults in the same age range as Jacob and Anna. If romance isn't your thing, you'll be hard-pressed to find redeeming qualities that are not swept up in the dizzying daydream of the genre. However, Yelchin and Jones do an incredible job, and they are backed by solid performances by Academy Award nominee Jennifer Lawrence ("The Hunger Games," "X-Men: First Class"), Alex Kingston ("Doctor Who," "ER") and Charlie Bewley ("The Twilight Saga: New Moon and Eclipse"). The direction is classic and a little bit cunning, and the narration through five years is whimsical and artfully done.
Intrinsically intimate, the movie set oftentimes was comprised solely of Yelchin, Jones, Doremus and a cameraman. Doremus directed the film so that the actors could easily lose themselves in the moment and perform from the heart instead of rattle off pre-scripted lines. Yelchin and Jones, who was brought on only a week before rehearsals began, stayed in character for the better portion of a month to work at understanding their protagonists.
Relating her relationship with Yelchin, Jones said: "I wanted to meet [Anton Yelchin] and have my own feelings about him, so I didn't even look him up on the Internet or anything. I wanted it to be truthful to when we met." The cozy cast had great luck in how well the two got along and how much chemistry their personalities created.
Though Doremus jokes that he often felt like he was spying on the two of them during their more personal scenes, the techniques used were nonetheless highly effective.
"I could make a totally different version of the film," Doremus laughed, as he is quoted as only using about 2 percent of the footage that was shot in the final 90-minute cut of "Like Crazy." Unused material included the backstory of Jacob's parents — the history of his father's death and his relationship with his mother — but though plot points such as these sound crucial to an indie film with not much in the way of action, I did not feel like any vacant information was missed.
Doremus even declared grinning, "[The final cut] was better than what I thought it would be, just because the actors brought so much to the project. … They elevated it and breathed life into it, and they were incredible together. They just had so much chemistry that it was better than I hoped it would be."
Yelchin and Jones have already received "best actor" nominations and wins from the Sundance Film Festival, Hollywood Film Festival and Gotham Independent Film Festival. Doremus said: "Our expectations are to share ["Like Crazy"] with as many people as possible all over the world. Whoever gets to see it, we're excited, and hopefully it affects them in a way that makes them think about their lives or is special to them."
"Like Crazy" has been given the Audience Choice Award for Best Picture at the San Diego Film Festival and Feature Award for Best Picture at the Twin Cities Film Festival. "That's all our goal is," Doremus continued, "and any other accolades or appreciation that we get is just gravy, because at the end of the day we never expected this, and we're just grateful to be in this position.
Paramount Pictures' "Like Crazy" opens in select theaters Oct. 28.