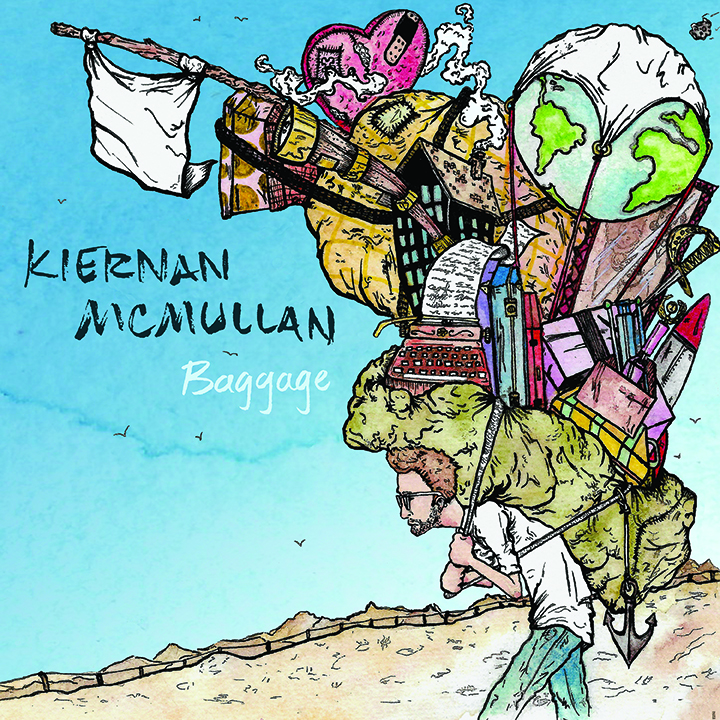 The new album by witty lyricist Kiernan McMullan is a truly emotional release for the indie songwriter. Aptly named "Baggage," McMullan's 10 new songs all reflect on the singer's past and present stress, struggles and shortcomings.
McMullan, named one of 2016's "12 Bands You Need To Know" by "Alternative Press Magazine," has traveled the world sharing the stage for the likes of Ed Sheeran, Mat Kearney, Dave Mason and many more. The Nashville singer-songwriter guitar style is easiest to compare to Vance Joy, though more emotional and unique in McMullan's case. His newest album is without a doubt the realest and most scintillating of his four records which really focuses on his life struggles.
The album opens with McMullan's most recent single, "What's For You (Won't Go Past You)."  This doesn't say much, but the lead song is easily the most upbeat on the album, reminding listeners that through life's tantalizing brawls everything will come together despite not being as easy as it may seem.
"Want:Need," the album's fourth song, truly highlights some of McMullan's stumbles. Seductive guitar fills and chord progressions in this song really highlight the talent and capabilities of the musician. I particularly enjoy the lines "Right now I thought I'd be exactly where I wanted but I don't remember what I wanted it for," and "Do you want? Do you need? Can't have everything." If there is one song on the record to check out, it is without a doubt this one.
Other songs to highlight include "Did I Leave Too Soon," "Another Heart to Break" and "I Stayed the Same," which are all about heartbreak, loss and grappling with emotions all too familiar to the human heart. "Did I Leave Too Soon," is less about love and more about leaving behind the things you didn't know you love. I like the style of the chord progression during the first two verses and although this song may not be as lyrically thoughtful as the rest of the album, it is still a soothing song about change.
"Another Heart to Break" is one of the most off-putting songs on the album. It's perfect imagery couples with a dark tone to create a heart-shattering love song about breaking hearts that are "perfect, wholesome and worth it."
"I Stayed the Same" was the first single McMullan released from this album back in spring of 2016. It is a heart-wrenching melody about love, change and heartbreak. This song in particular has a gloomy piano piece to pair with the lonely guitar riffs and distressing harmonies in the second chorus. It's a perfect anthem of heartbreak.
"Baggage," released April 7, is a wonderfully crafted piece and easily McMullan's best album to date. While McMullan has told me he doesn't have plans to tour this album right now, his live performance is also worth checking out. McMullan's live rendition of his song "Catch My Breath" is one of the most unusual performances I've ever seen; you can catch a version of it on OurVinyl's YouTube channel. Much like his live performance, McMullan's newest album is a hit. "Baggage" is a wonderfully crafted collection of brilliant lyrics and melodies to empathize with the struggling soul.