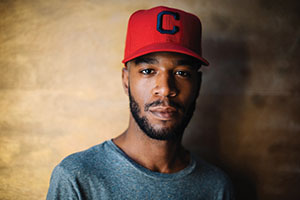 The weekend following Drexel University's first week of classes allowed students to reunite with some surprising familiar faces aside from those on campus.
Kid Cudi christened his "Passion, Pain, & Demon Slayin'" tour at Philadelphia's own Skyline Stage at the Mann Center, Sept. 30. Saturday's concert served as a homecoming for the Kanye West protege as this was his first performance since checking himself into rehab last fall for "depression and suicidal urges."
In the time prior to the album's release, Cudi announced via Twitter that the "days of f—ery are over" and he wasn't bluffing. "Passion" has an unconventional assortment of features consisting of collaborations with Pharrell Williams ("Surfin'," "Flight at First Sight") and both Jaden and Willow Smith ("Kitchen" and "Rose Golden" respectively) and more. "Passion" is Cudi's sixth studio album coming just a year after 2015's "Speedin' Bullet 2 Heaven" and three years after his debut album "Man on the Moon," home to his Grammy-nominated single "Day 'N' Night."
After traversing the maze that is West Fairmount Park with an Uber driver who I must say deserved a lot more than $12 for the ordeal (seriously, shoutout to Kareem) we made it to the Skyline Stage at 7 p.m. for what was supposed to be a 7:30 p.m. start. Due to what we were led to assume were technical issues, the show ended up starting a little over an hour late. However once his set began, I can say with confidence that I would have waited an eternity for this precious god-sent beacon of light to bless us with his melodramatic psychedelic sound.
Cudi opened the show with "Baptized in Fire," whose lyrics go hard in the paint on the difficulties of sobriety — an appropriate note to start on considering this is his first tour since declaring himself completely sober. The crowd immediately erupted in pure joy with a hint of relief that the set had finally begun.
The stage was embellished with images and props depicting elements of nature with a sort of techno-flare provided by holographic background dancers. With each song the "weather" portrayed would change with the tone of the song, adding an extra edge to the ambiance of the outdoor venue. I especially appreciated the effects since I couldn't really see Cudi a majority of the time due to being a 5-foot girl drowning in an ocean of very sweaty 6-foot-something men.
I am living proof that you don't need to be a diehard Kid Cudi fan to have had a good time at one of his concerts. His set list was designed to accommodate those who had only known his biggest hits and those who knew every lyric to his most low-key songs. The way I saw it, for every two songs he played off of "Passion" he garnished with one of his previous major hits like "Pursuit of Happiness," "Day 'N' Night" and "Through the Late Night." The whole thing was an absolute mob scene in the best way.