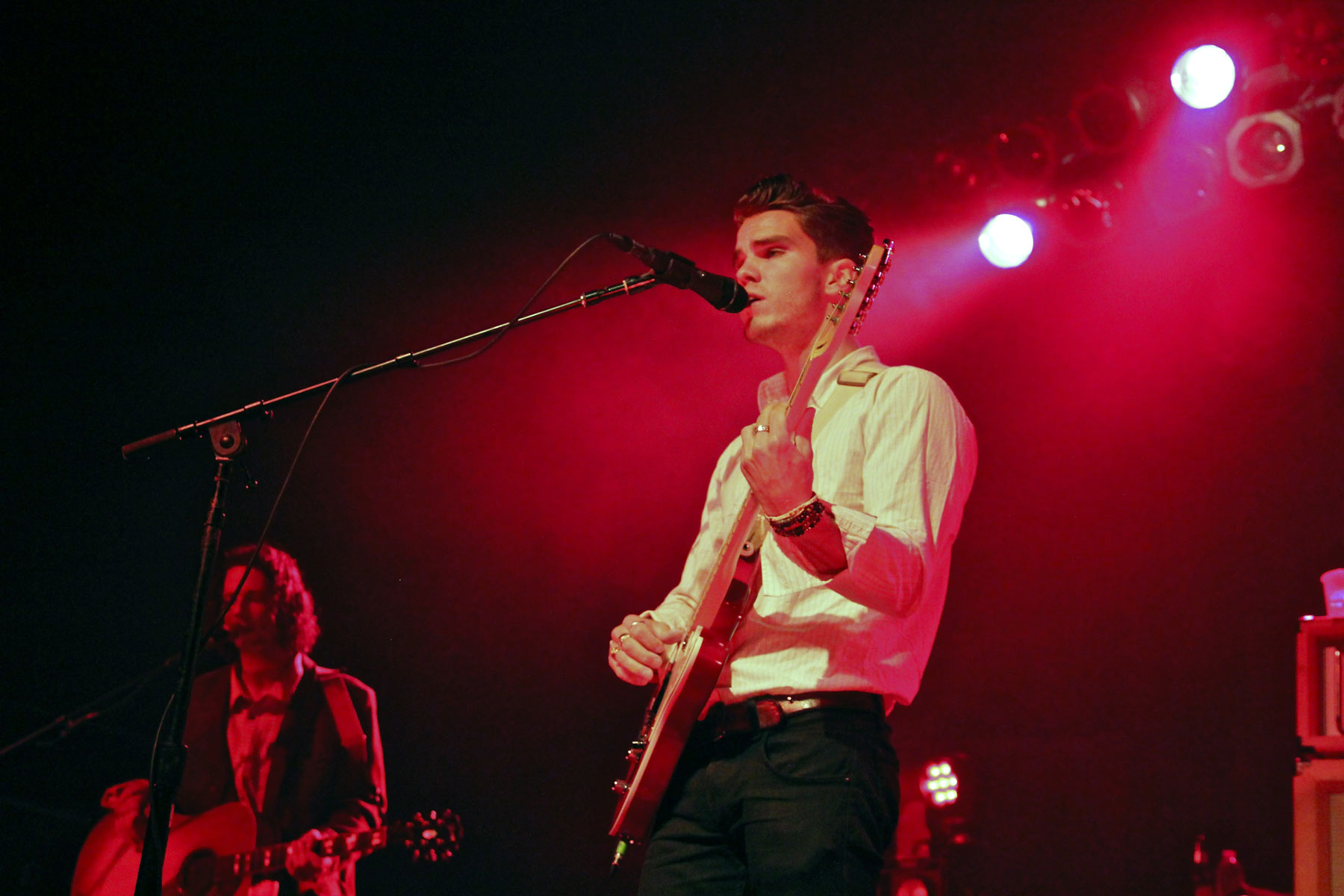 In my best efforts to describe the band Kaleo and their sound I've reached the conclusion that they are the lovechild of the Black Keys and Hozier. To my surprise, this wasn't exactly an original revelation. I've since been told Kaleo gets compared to these other artists quite often. Originally hailing from Iceland, the band moved to Austin, Texas corresponding with their first American release "A/B." The Icelandic rockers made their way down to the Theatre of Living Arts Oct. 3 to treat Philly fans with "The Handprint Tour."
The TLA was filled to the brim with fans who all seemed to be around the age of 25 or older, aside from a tween girl attending the show with her mom. After great sets by both The Wind and the Wave and Bishop Briggs, Kaleo got on stage and didn't hesitate to start the show right away. Frontman JJ Julius Son displayed his ability to whistle gloriously with the opening song "I Can't Go On Without You." I found this and the following track, "Save Yourself," to be interesting choices to start the show with considering they're both pretty somber tunes. Immediately after this thought popped into my head, Kaleo had me and everyone else in the venue toe tapping to "Broken Bones," a song that would most likely be used in a Sons of Anarchy commercial if the show still aired.
The rest of the night was like a rollercoaster with Kaleo transitioning from high energy songs like "No Good" to the slow and hushed "Vor i Vaglaskogi." An aspect of the show I find worth mentioning was the lighting. While it made photographing the band a bit more difficult, the light show and the band were synchronized down to the very last second which was really cool to see, especially with faster paced tunes. The guitar playing was also very impressive, most notably on the lively track "Backdoor" which had all the fans in the crowd simultaneously cheering and headbanging.
After a brief goodbye, Kaleo quickly came back out for an encore realizing their fans weren't ready to call it a night. The band played one last song, "Rock 'n' Roller," which was arguably the most rockin' song of the night. Had the concertgoers been a bit younger, I guarantee this is a song they would've moshed to. Highlights of the night were when "Automobile" and my personal favorite, "All The Pretty Girls" were performed as Son's vocal talents really shone through.  
All in all, these Icelandic studs put on a wonderful show. However, I think there's a fine line between being polished and being overproduced, and Kaleo was dancing on this line. Everything was so consistent that I was left feeling a bit underwhelmed as a fan of raw rock 'n' roll music. Another aspect that left me feeling a bit disappointed was Kaleo's lack of interaction with the crowd; they got on stage, sang and then got off stage. I personally believe various interactions with the crowd and impromptu solos are what make concerts memorable.
I'd be lying if I said I was wowed by this show, but I'd also be lying if I said Kaleo isn't a band worth seeing if you're into alternative music.